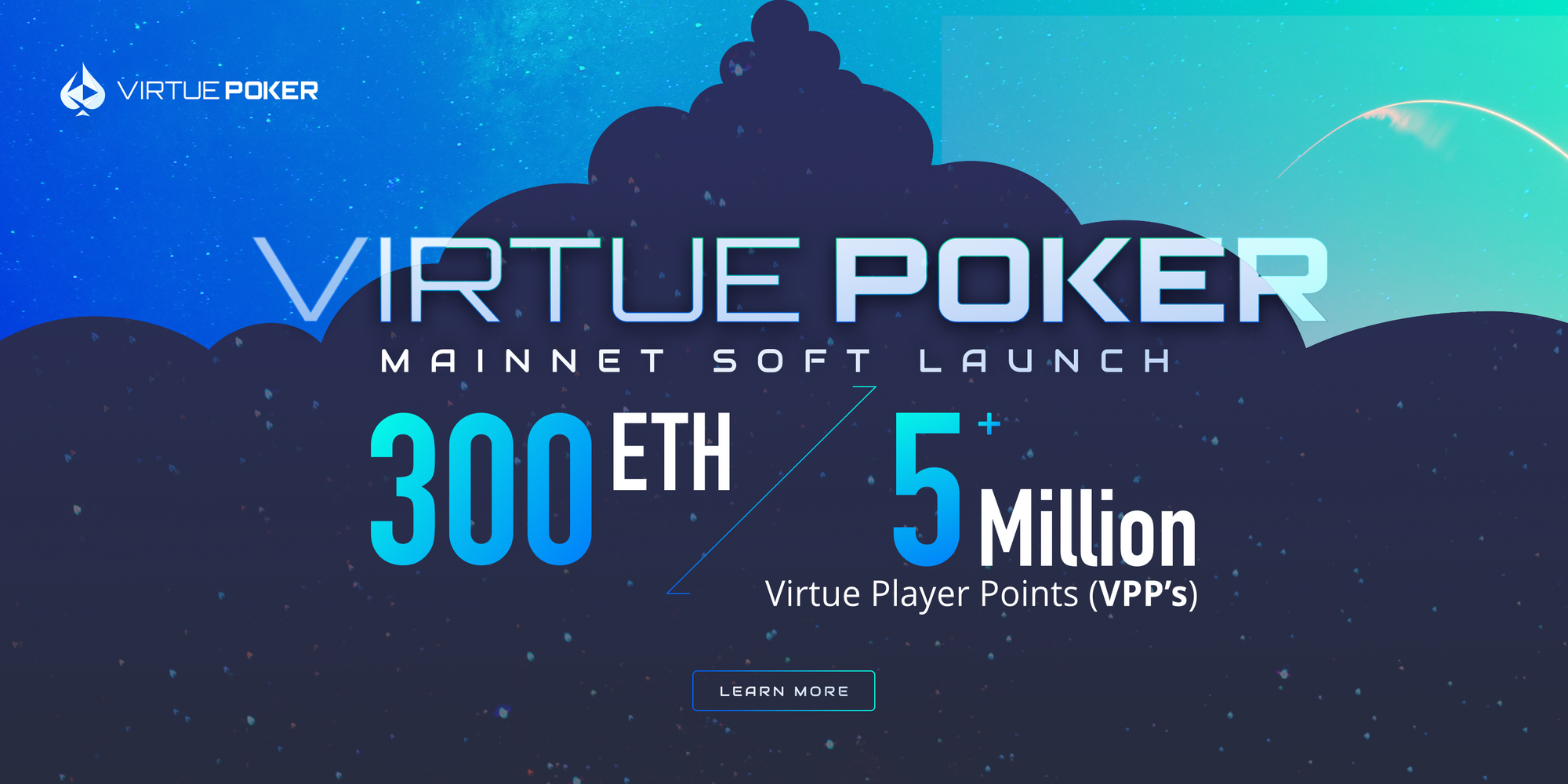 Wednesday, November 4 is Day 1 of the Virtue Poker Mainnet Launch Test. During the Launch test, we will offer only Sit & Go tournaments at denominations from 0.025 ETH to 0.1 ETH (roughly $10 to $40 at today's ETH/USD price).
We have a lot of excitement planned for the next four weeks, during which we are giving away over 300 ETH and as many as 5 million VPPs (Virtue Poker Points, our token).
Our goals for the Launch Test are:
Test the stability of the software in a real-money environment
Build a baseline of player liquidity from our Beta player base
Demonstrate the revenue-generating capability of the platform for the purpose of securing Justice staking nodes
After the test has concluded, our intent is to unlock our VPP token, distribute VPP prizes from previous betas and begin enlisting our Token Buyers as Justice nodes. Our plan is to first create liquidity on Uniswap to exchange VPP/ETH. We are in discussions about adding additional exchanges as we move forward.
The Virtue Poker team is grateful to all of our Token Buyers and previous Alpha and Beta participants who helped us get to this point. As we reach this milestone, we ask your help one more time by participating in our Launch Test so we can accomplish our goals and continue to expand and grow the platform.
The promotions below all start Wednesday, November 4 and run through December 6 except for the Weekly Leaderboard. The Leaderboard begins Monday, November 9 at 0000 UTC. Each Leaderboard week begins at 0000 UTC Monday and ends at 2359 UTC the following Sunday.
100% of the rake Virtue Poker collects during this Mainnet Launch Test is being returned to our players through these promotions (and we're adding even more).
Launch Week Promotions
Please note that there are playthrough requirements for all promotions - see the Promotion Rules for details.
Drawings for 20 ETH. Make a deposit of at least 0.25 ETH by 2359 UTC Friday and we'll enter you in 20 drawings for 1 ETH each. Qualify by earning just 1 Grinder Point (see the Grinder Bonuses section below).
10 ETH Sit & Go Freeroll. The first 36 players to deposit 3 ETH will win tickets into a special 2-stage SNG. If you win your first table, you're in the money! Your second (and final) table has a prize pool of 10 ETH with 4 ETH to the winner. [NOTE: THIS OFFER IS NOW SOLD OUT.]
Every weekday during our first full week (Monday, 10 November through Friday, 14 November) we will hold (5) drawings for 1 ETH each. All you need to do to qualify each day is earn at least 10 Grinder Points.
Deposit Bonus
For every 1 ETH you deposit, you will receive a free bonus of 4,000 VPPs, which will be credited to your account before our full mainnet launch. Minimum deposit is 1 ETH and maximum is 3 ETH for this bonus.
Weekly Sit & Go Leaderboard
You will receive points for every SNG you play, as shown on the Leaderboard Points Table in the Launch Test Promotion Rules.
Each week, the top 4 players on the Leaderboard and 2 randomly chosen players will play in a SNG Semi-final. The top three players in each SNG Semi-final all win money, and the winner also wins an entry into the SNG Final Table. The fifth player for the SNG Final Table will be chosen at random from all players who earned at least 100 Grinder Points.
The SNG Final Table is a 30 ETH Sit & Go with Virtue Poker Ambassador and WSOP Champion Phil Ivey. In addition to winning up to 10 ETH in the Sit & Go, the player who busts Phil receives an additional 1 ETH. And if that player wins, there is another 1 ETH bonus for a total potential first prize of 12 ETH. At today's ETH/USD price, this is about $4,700!
Grinder Bonuses
For each Sit & Go you play, you earn Grinder Points as follows:
0.025 ETH: 1 point
0.050 ETH: 2 points
0.100 ETH: 4 points
You may redeem these points for one of the following Grinder Bonuses:
Grinder Bonus: The first 200 players to reach 100 points during the promo each receive 0.4 ETH and 2,000 VPPs.
Super Grinder Bonus: The first 100 players to reach 200 points during the promo each receive 0.8 ETH and 5,000 VPPs.
I Have No Life Grinder Bonus: The first 30 players to reach 400 points during the promo each receive 1.5 ETH and 8,000 VPPs.
We'd love to see you at the tables with us as we celebrate this exciting step towards launching for real money. Please join us and tell your friends!

All promotions are subject to the Launch Test Promotion Rules and the Virtue Poker Terms and Conditions.