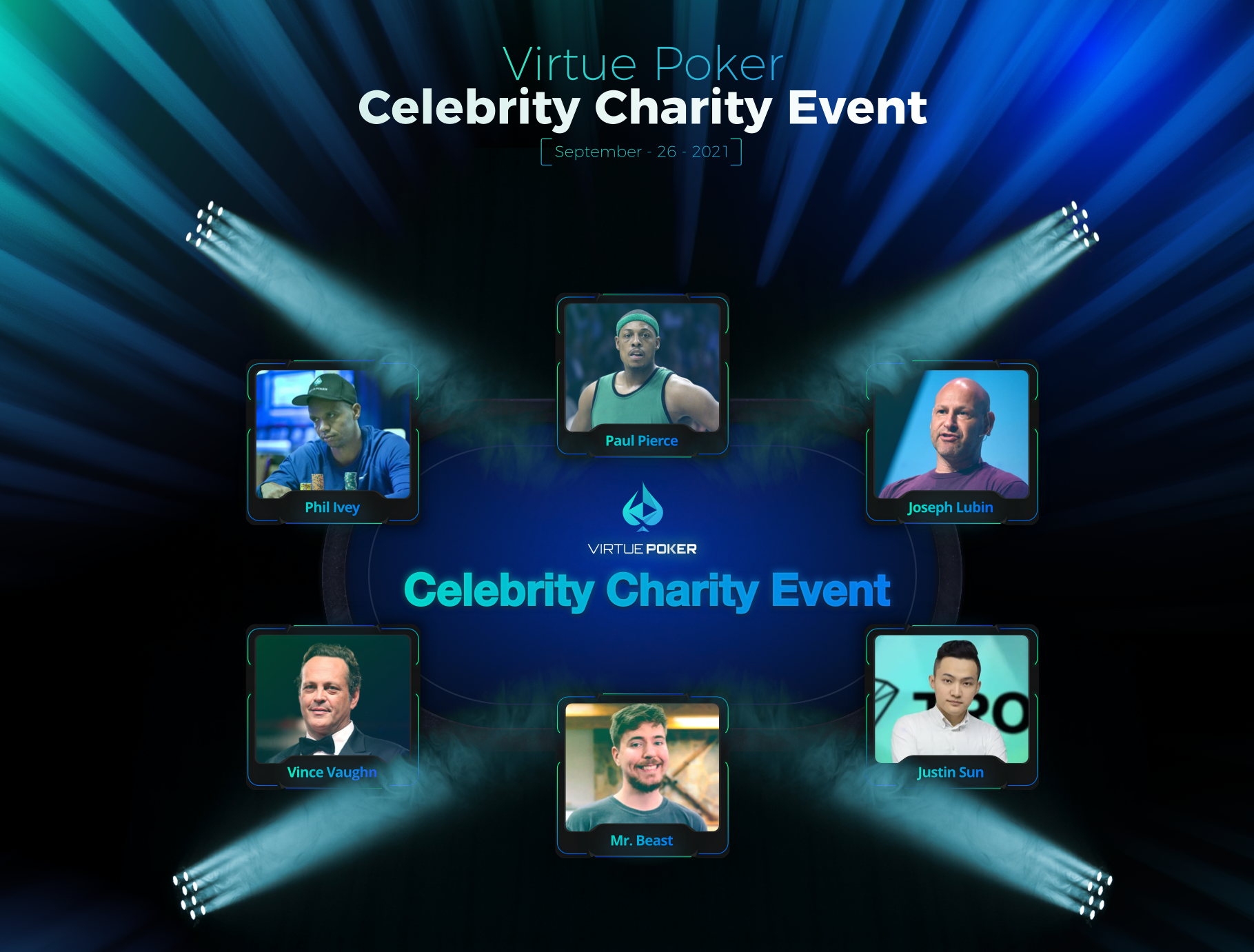 Virtue Poker, a decentralized platform built with Ethereum, is hosting a charity tournament that's mending gaps across chains. The tournament will bring together an accomplished group of Celebrities, Founders, and blockchain enthusiasts alike to for the right to donate $100,000 to the charity of their choice.
This event is the first of its kind on Virtue Poker and judging by the community growth, it might not be the last. The number of players on Virtue Poker has increased 400% since the end of May this year. Virtue Poker surpassed 1 million hands since its launch and now boasts over 20,000 players.
The Participants
The Titans
Joe Lubin: Founder of Consensys, Co-Founder of Ethereum
Sandeep Nailwal: Co-Founder of Polygon
Justin Sun: Founder of Tron
The Founders
Elliotrades: Founder of SuperFarm, and one of the most popular blockchain focused YouTube channels
Nick Rose: Founder of Ethernity
Chris Wang: Founder of ThunderProtocol
The Stars
Mr. Beast: Founder of one the world's largest Youtube channels with over 67 million subscribers
Phil Ivey: 10-time World Series of Poker Champion, Poker Hall of Fame and Virtue Poker Team Pro
Vince Vaughn: Hollywood actor
Paul Pierce: NBA Champion and Hall of Famer
The People
Community member from Virtue Poker
Community member from SuperFarm
Community member from Ethernity
Community member from Binance
With more special guests yet to be announced....
The Giving Block Partnership
Virtue Poker has partnered with the Giving Block to advance charity efforts on multiple mediums. The Giving Block will help specialize in live viewer donations through its online portal.
NFT's Integration into Live Event Entries
This is also the first online poker tournament to utilize nonfungible tokens as part of the event experience. As such, seats were open to the public via NFT auctions on various blockchains. For example, Binance NFT auctioned "The Golden Ticket NFT" to its community and the winner would be competing in the upcoming game on Sept. 26, 2021. Ethernity held a similar auction with its community to garner public participation in the charitable event.
Lastly - Virtue Poker player's have currently competed in a months long tournament series for their own "Golden Ticket" with one lucky winner also gaining entry to the event.
Interactive Streaming Experience
This event will be streamed on YouTube and Twitch. On the same note, participation from MrBeast means that the door is open to the 67.5 million subscribers on his channel.
Virtue Poker will be announcing the coming weeks over $100,000 worth of prizes for viewers who tune in - including an interactive NFT drop with a major NFT platform that will allow NFT holders to earn grand prizes.
Conclusion
Thank you to our partners, our participants, and most importantly to our community members for supporting Virtue Poker's in our journey so far.
We have a very exciting announcement that will be coming in the next few weeks that will open the Virtue Poker platform to a broader market - so stay tuned!
The Virtue Poker Team