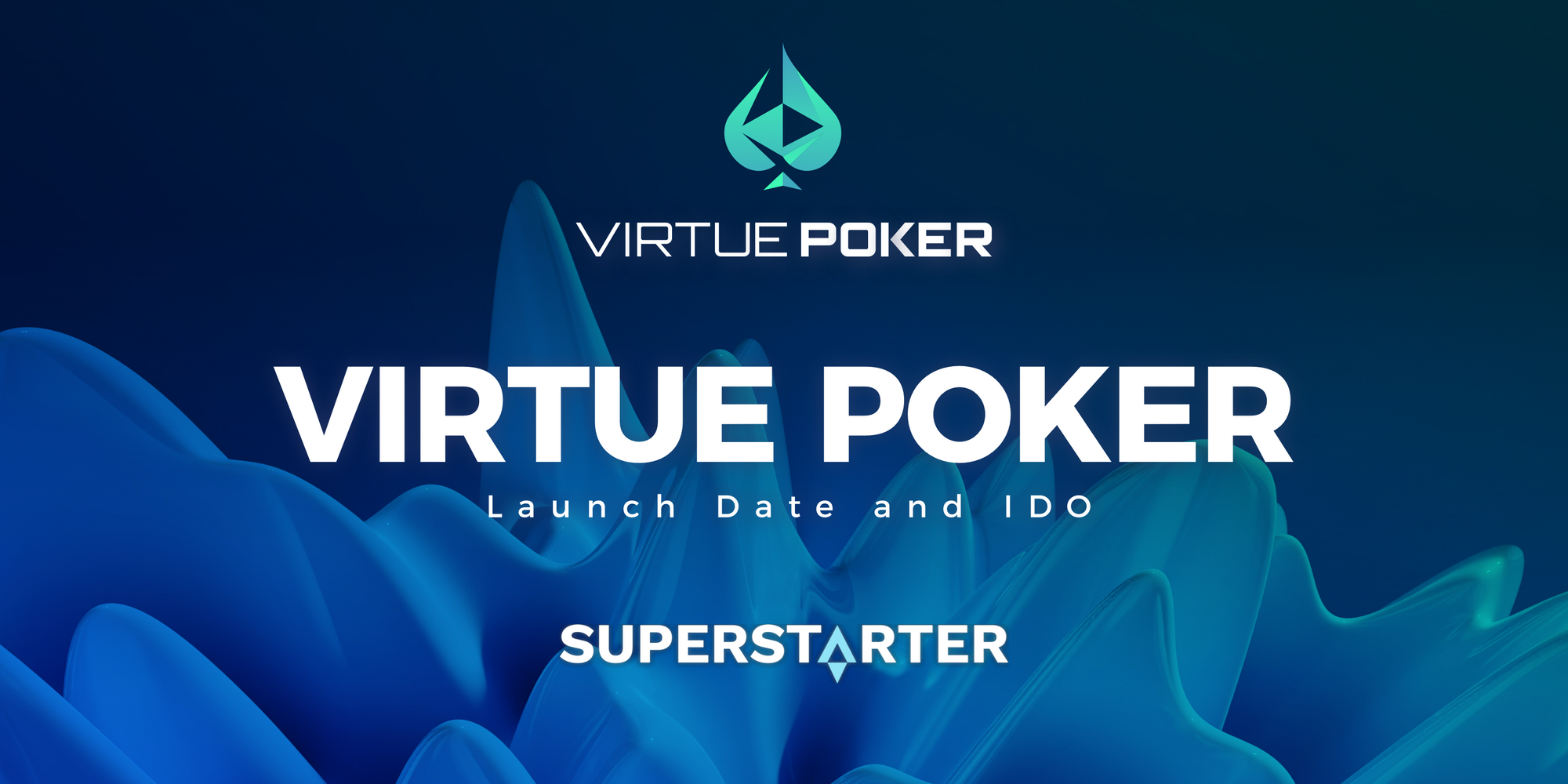 Virtue Poker is pleased to announce Virtue Poker will be launching the VPP token following our IDO on May 28th 2021 via Uniswap. Virtue Poker will be launching our IDO on SuperFarm's SuperStarter platform
Coinciding with Virtue Poker's launch will be Virtue Poker's full platform launch for real-money gaming under our newly received MGA License. We know the long wait for many has been difficult, but we are excited to begin this next chapter in Virtue Poker's history. Before we get into details, a few high level updates:
1. Updates
1.1 Funding
Virtue Poker closed a new private round funding this year with strategic backers from all over the world including: DFG Group and several other strategic partners who will be working with Virtue Poker to amplify our launch and help make Virtue Poker successful in the long term. DFG Group and our other partners have significant reach in the Southeast Asian market. Virtue Poker plans to significantly expand our presence in that region for player acquisition. We also thank our friends at Coinlist for giving us a platform to tell the world about Virtue Poker back in February of this year.
The proceeds from our 2018 token sale have allowed us to build a fully functional and licensed blockchain based P2P poker application and build out our initial liquidity for Virtue Poker's launch. We will go live with thousands of registered player accounts and be able to build our platform liquidity from this initial foundation.
The proceeds from our most recent round will be used to grow our player community on Virtue Poker and interest in the VPP token through marketing promotions. Our goal is to offer 24/7 liquidity on the Virtue Poker platform so that players can play poker at any time of any day of the year. For our VPP community, these means more prizes, more promotions and more ways to win ETH and VPP on the Virtue Poker platform.
1.2 NFT Partnership
We are also excited to announce that Virtue Poker has formalized a partnership with a prominent NFT company and we will begin integrating NFTs into the platform, such as NFT marketplace for avatars, NFTs for tournament victories, and much more.
The rise of NFTs popularity this year has shown that these non-fungible tokens are going to be a significant part of the future. The World Poker Tour has already launched their own NFT token series - and we believe that successfully integrating NFTs into Virtue Poker can be a key differentiator for our platform going forward.
NFTs can be rewarded for knocking out players (bounties), for tournament victories (bracelets), and for several other cool use cases including as prizes and are unique tokens for your personal play on the app.
1.3 Launch Promotions
Virtue Poker will be supplying over $500,000 USD worth of prizes for our launch promotion. Players will need to have a minimum balance of VPP in their accounts to be eligible for the promotions that we will be running including: grinder bonuses, rakeback, daily drawings, lotteries, leaderboards and to win a chance to play against the Hall of Famer and Virtue Poker team Pro, Phil Ivey. Specifics on the Virtue Poker Launch Promotion will come in a separate announcement closer to the May 28th launch.
2. IDO Announcement

Virtue Poker is excited to partner with one of the premier IDO platforms, powered by a fantastic community and founding team. Virtue Poker's public IDO will take place on May 28th, and we are excited to announce our IDO will take place on SuperStarter.
2.1 Benefits of an IDO
Our team after careful consideration determined the best and most optimal way to launch Virtue Poker and the VPP tokens was via an IDO.

2.1.1 Broader Distribution of VPP
Virtue Poker currently has 475 VPP holder's from our previous sales. In addition, we have approximately 1000 Beta players who earned VPP through their play on the platform.
An IDO has a much lower minimum purchase cap (usually $500 to $1000) and allows for broader participation in the sale itself. Independent of the sale, typically IDOs generate additional public demand post-IDO when the token is listed on the DEX - allowing our project to widen their distribution of VPP holders.
A broader distribution of VPP holders is good for Virtue Poker, as we are a B2C poker platform - and having more token holders enables us to market our promotions for the platform to more players - driving more liquidity and gameplay on the app, which is our ultimate goal.
2.1.2 Broader Community, Develop a Market for VPP
An IDO provides a new platform to help grow the Virtue Poker community dramatically and in turn, grow the desire for the VPP token. Our partnership announcement Wednesday will kick-off our marketing campaign for the token/platform launch. This gives us an opportunity to get new people excited about Virtue Poker who may never heard of us before. Virtue Poker will hopefully get significant media coverage, influencer attention, and be able to attract more people to the VP community.
Date: May 28th 2021
Platform: SuperStarter
Price: $0.125 per VPP
Number of VPP tokens: 2,000,000 VPP
Vesting: 100% vest on TGE
Initial Market Cap (based on IDO price): $1.5 million

3. VPP Utility Update: What are VPP Tokens?
3.1 Description of Current VPP Utility
Virtue Player Points ("VPP") are the native token used only within the Virtue Poker platform. VPPs have three core utilities within the Virtue Poker network - they can be:
staked in a smart contract called the Justice Registry that enable users to stake tokens and validate hands on the network in exchange for up to 50% of platform fees;
used to access special tournaments, promotions, used to wager, and vote on new marketing proposals
vote on updates to the system including the eventual deployment of the VPP treasury after 2023
3.2 Justice Nodes on Virtue Poker
Justices can be thought of as validator nodes on the Virtue Poker network, signing each transaction for every hand on the platform and submitting hand histories for storage, but are never dealt cards. Justices are rotated automatically every few hands. The Virtue Poker Justices receive up to 50% of the platform fees via staking.
The Justice Pool is composed of a limited number of users that are active on the Virtue Poker network. To become a Justice, users must acquire VPPs and stake tokens in the Justice Registry. To be assigned to tables, the individual must simply register here and indicate the number of Justice Nodes they will like to run: https://virtue.poker/justice/ (more on this below).
The functions described below are automated: there is no manual oversight needed for a user to run a Justice node.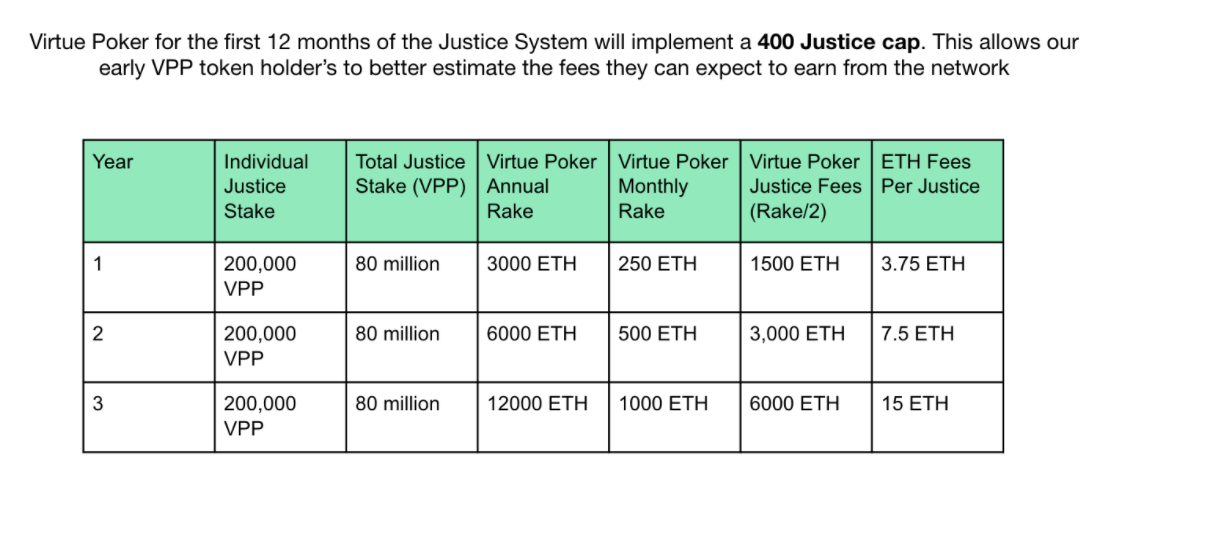 3.3 Player VPP Functionality  
Players will be required to maintain a minimum supply of VPP tokens to access special promotions and earn higher rakeback from the platform.

*Exact figures are still yet to be finalized for player staking.

Players will be incentivized to maintain a VPP balance both to access higher rakeback and access exclusive marketing promotions as well as to vote on updates to the platform.
3.4 VPP Governance
VPP tokens will also now possess a governance utility with regards to the management and deployment of the reserve VPP tokens for marketing and promotions, and over the choice of the day-to-day games offered on the site.
Token holders will be able vote on items such as the following:
Structuring and voting on special tournament series
Voting on jackpots including how to implement bad beat jackpots, randomized drawings for bonuses
Leaderboard promotions
New game types
New tournament types
Deployment of Community Distributions

Virtue Poker players would be able to vote on marketing proposals and game types offered through a voting mechanism that gives each player one vote for each 1000 VPP held in their wallet on the Virtue Poker application. This structure would incentivize Virtue Poker players to maintain a balance on the site to vote on proposals.

The first voting proposals *should* be ready for early July 2021.

3.5 Management of VPP Treasury

Lastly, VPP token holders will vote on how to deploy the VPP treasury after 2023. The 180 million VPP tokens in treasury will be locked until March 2023. The VPP token holders can vote on either to use the VPP tokens to continue to drive growth or can burn the tokens.

4 VPP Updated Tokenomics and Supply Breakdown

In preparation for our IDO and VPP launch, we have made the following adjustments to our tokenemocis and VPP supply breakdown:
Virtue Poker's updated tokenomics and vesting schedule is based on careful consideration and advice from several strategic partners.
4.1 2018 Token Buyers (Private 1/Community)
Virtue Poker sold 100 million VPP tokens in 2018 for both Justices (Strategic) and for players (Community Round).
4.1.1 Players
Token buyers from 2018 who purchased less than 200,000 VPP will have access to their VPP tokens immediately after the IDO is completed. These individuals indicated in 2018 their intention to use their tokens as players.
Vesting: None
4.1.2 Justices Nodes
Virtue Poker is excited to announce that the Justice System will go live on May 28th 2021. Token buyers from 2018 have exclusive access to stake and run Justice Nodes on Virtue Poker. These Justice nodes will earn 50% of the platform fees for 12 months. Staking and running a Justice node requires a minimum 6 month lock-up period.
Virtue Poker will be employing a 400 Justice Node cap for 12 months post launch. And there will be a 20 Justice Node cap per token buyer initially. Each individual token buyer who is eligible to be a Justice will first have the right to stake their maximum amount of tokens to run their maximum amount of Justice Nodes. Token Buyers who do not wish to stake their maximum number of tokens will have their Justice node(s) distributed amongst the other VPP buyers who reached their cap.
If you were a 2018 token buyer who purchased 200,000 VPP tokens or more, please go here to indicate the number of Justice Nodes you will like to run: https://virtue.poker/justice/
**NOTE: Any token buyer who chooses to not stake a portion of their VPP tokens will lose their ability to stake for 12 months.
Vesting: Token buyers from 2018 who purchased 200,000 VPP or more will have to first stake their VPP tokens to run a minimum of (1) Justice node before accessing their VPP tokens. All buyers who purchased 200,000 VPP or more will be subject to a 1-month cliff and 12.5% a month vesting for an additional 8 months.
For example: a 2018 buyer who purchased 600,000 VPP will have to stake a minimum of (1) Justice node for 6 months. The individual could then choose to keep his remaining 400,000 VPP and will be able to access 75,000 VPP a month beginning June 29th 2021.
4.2 2021 Private Sale/Strategic
In addition, more recently Virtue Poker sold 40,000,000 VPP tokens this year to strategic partners and advisors. Virtue Poker structured this as a SAFE with a token warrant. Participants in this round will receive their tokens at an effective price of $0.125 per VPP token. However, these tokens will not be accessible until October 2021 and will not be in circulation for launch.
Vesting: All participants in the Private Sale are subject to a 6-month lock-up and then daily vesting for an additional 8 months. These participants will have their VPP tokens staked as Justice Nodes with a maximum cap of 10 Justice Nodes per participant.
4.3 Liquidity
Virtue Poker will allocate up to 10,000,000 VPP tokens to provide liquidity on Uniswap. Of those VPP tokens, 2,000,000 VPP will be used on May 28th 2021 after the IDO. In addition, Virtue Poker will use the $250,000 in proceeds from the IDO for providing liquidity on Uniswap. The remaining tokens will vest over time and can be deployed at Virtue Poker's discretion either on Uniswap or for a CEX listing.
Vesting: 20% on TGE, 10% a month over 8 months

4.4 Ecosystem
Virtue Poker will be distributing up to 75,000,000 VPP tokens to our player community via promotions, deposit bonuses, lotteries, and other giveaways. Community Distributions are unlocked over time and used to grow the player base on the Virtue Poker platform. Distributions will scale with usage of the platform.
All Token Buyers who purchased 16,000 VPP or more in 2018 will be eligible to participate in our 8 million VPP Freeroll - currently scheduled for July 2021.
Vesting: 75 million VPP tokens will only be fully distributed when the platform has reached 25,000 ETH in revenue.
4.5 Team
Since we are updating the tokenomics for our community and buyers, the Virtue Poker team will update our vesting terms as well. We've locked up our tokens for longer than our original vesting terms back in 2018, as a sign of confidence our team has in the future of Virtue Poker.
Vesting: 18 month vesting period, 6 month lock and 8.33% a month over 12 months
4.6 Reserve
The Reserve Tokens will be governed by the VPP token holders themselves. These tokens will be locked for a minimum of 2 years until May 2023. They can either be deployed to continue to fuel growth, or can be burned at the VPP token holders discretion via voting.
Vesting: locked until May 2023
4.7 Beta Users
Beta users who participated in our previous testing rounds earned VPP tokens through their play on the application. These tokens will be distributed in the Virtue Poker client to each Beta player post IDO launch in early June 2021. These tokens will come from the "Ecosystem" pool.
Vesting: none
5 Conclusion
Virtue Poker will significantly increase our community over the next few weeks after our IDO announcement on May 12th. In addition, we have several additional exciting pieces of news and events planned for the next few months.
We anticipate a highly successful IDO, VPP token launch, and platform launch this month, and we believe the VPP token price and value should reflect that by the time these are completed.
We ask our community to remain patient, enthusiastic and engaged. Most importantly - we'd love for you to invite your friends to join us and play on Virtue Poker!
Thank you - and we look forward to the launch of Virtue Poker! We'll see you on the tables.