We are excited to announce that Virtue Poker clubs are now live! And we're launching The Official Virtue Poker Club.
Password: VirtuePokerOfficial!
Using the Virtue Poker software - players can now organize themselves within poker clubs and schedule their own calendar of events.
In addition, we've updated our gating options and have added Optimism and Arbitrum, plus email whitelisting as gating options.
However, our favorite new feature is: multi-contract-cross-chain token gating! Users can now create a poker club (or tournament) and select tokens/NFTs across multiple blockchain networks as requirements for players to join their club or register for their event.
Let's take a look at how these features work together:
How to Create a Club
NOTE: Club creation is by invitation only, if you'd like to create a poker club, please submit your request to support@virtue.poker.
Step 1: Create a Club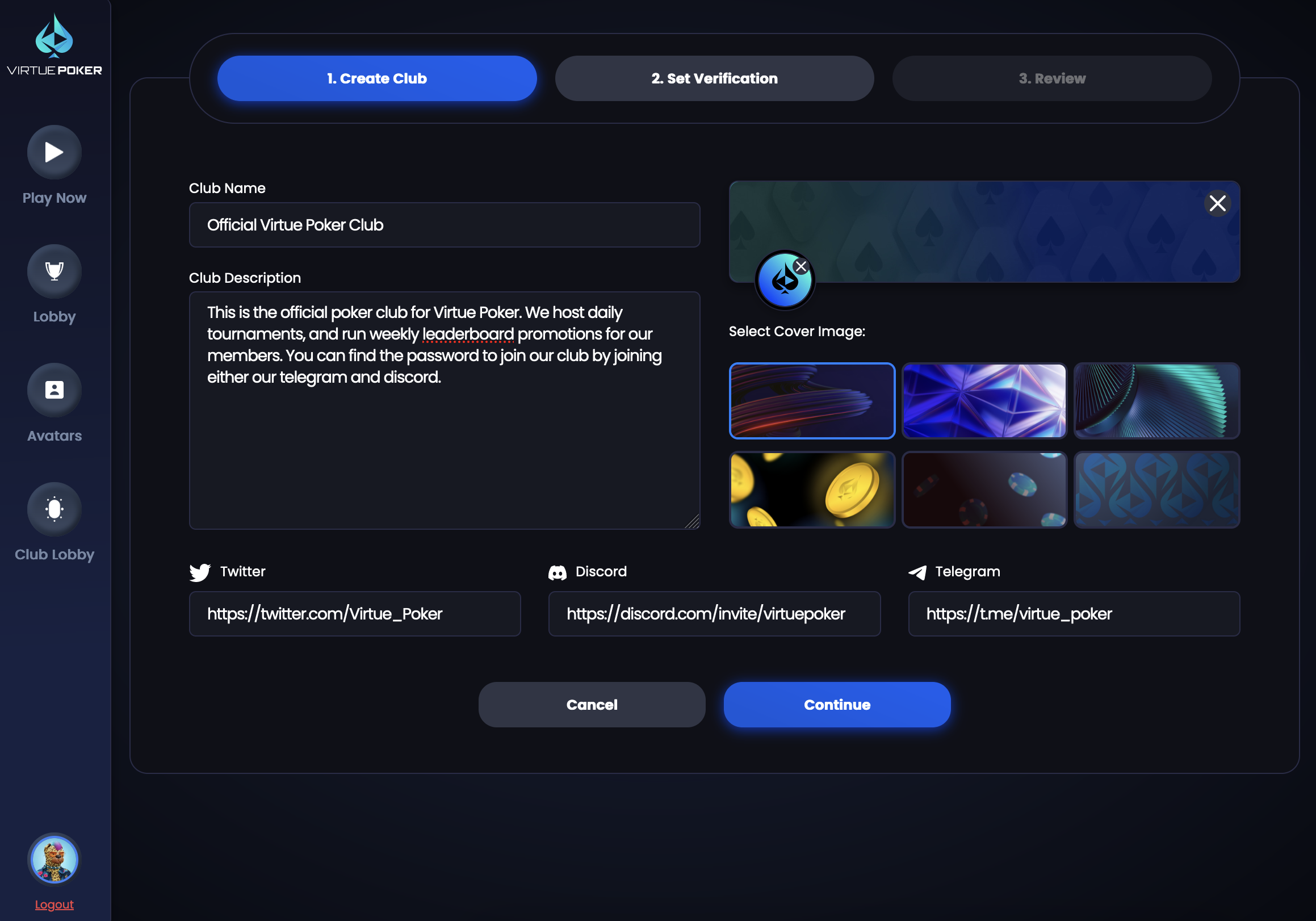 You can customize your club name, description, banner, profile picture and add links to your social channels.
Step 2: Set Verification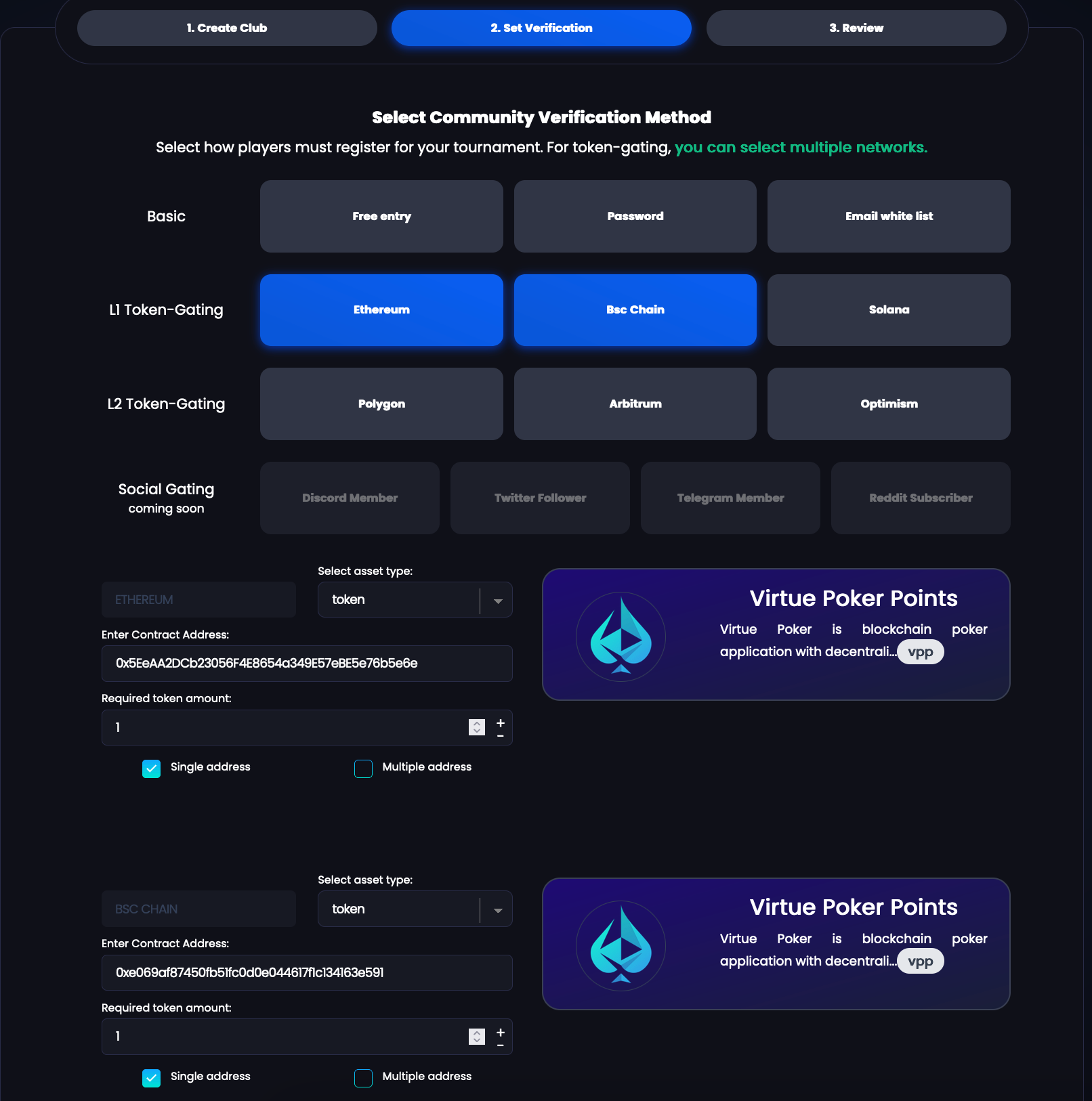 A club owner can determine the requirements needed for players to become members of their club:
Basic: includes free entry, password protection, or a club owner can upload a .csv file of their email list, to "email-gate" their club.
L1/L2 Token-gating: Ethereum, BSC Chain, Solana, Polygon, Optimism and Arbitrum
A club owner can add multiple contract addresses from a single network, or add multiple contract addresses across multiple networks.
Adding multiple contract addresses: is a useful feature for many communities that have multiple assets. For example, Decentral Games has greater than 40 contract addresses for their wearable collection. DG can add all of these Polygon-based addresses to allow any user who owns any NFT from any of their collections to join their club.
Multi-contract-cross-chain token gating: is a useful feature for many communities that might have assets on multiple blockchain networks. For example, Virtue Poker has our $VPP token deployed on both the Ethereum and BSC Chain networks. VP can now allow any owner of $VPP tokens across either chain to join our club and our poker events
Step 3: Build your own Poker Lobby, schedule your events in advance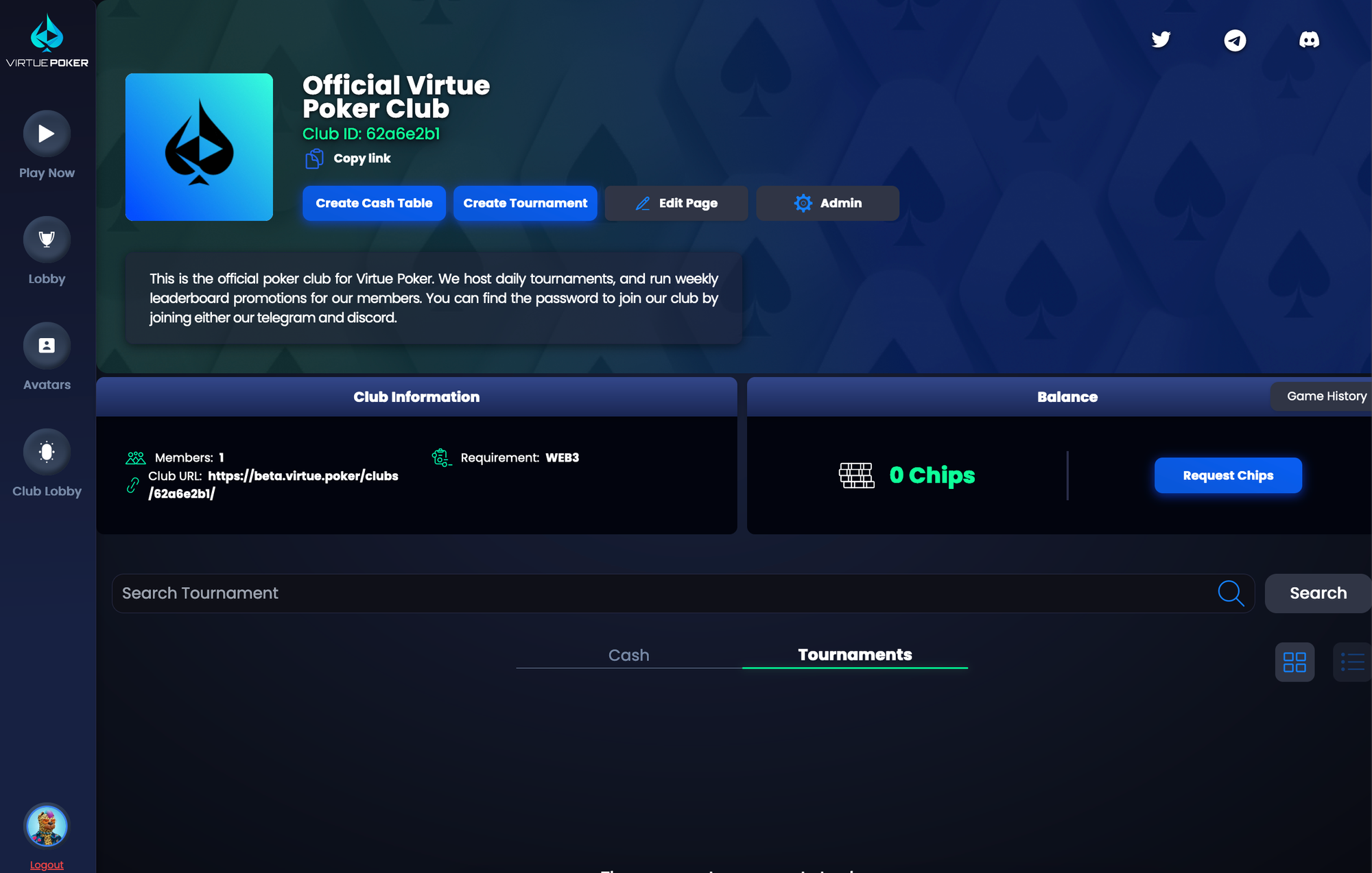 Each poker club on Virtue Poker has its own dedicated URL. You can think of this as your own private poker room. Owners can simply share their link with their communities, and players can view the club page and schedule of events, and easily join by creating an account with either an email address or wallet.
Also, an owner (or admin) can now easily create both cash tables and tournaments within their club. They can schedule several months of tournaments in advance in less than 15 minutes.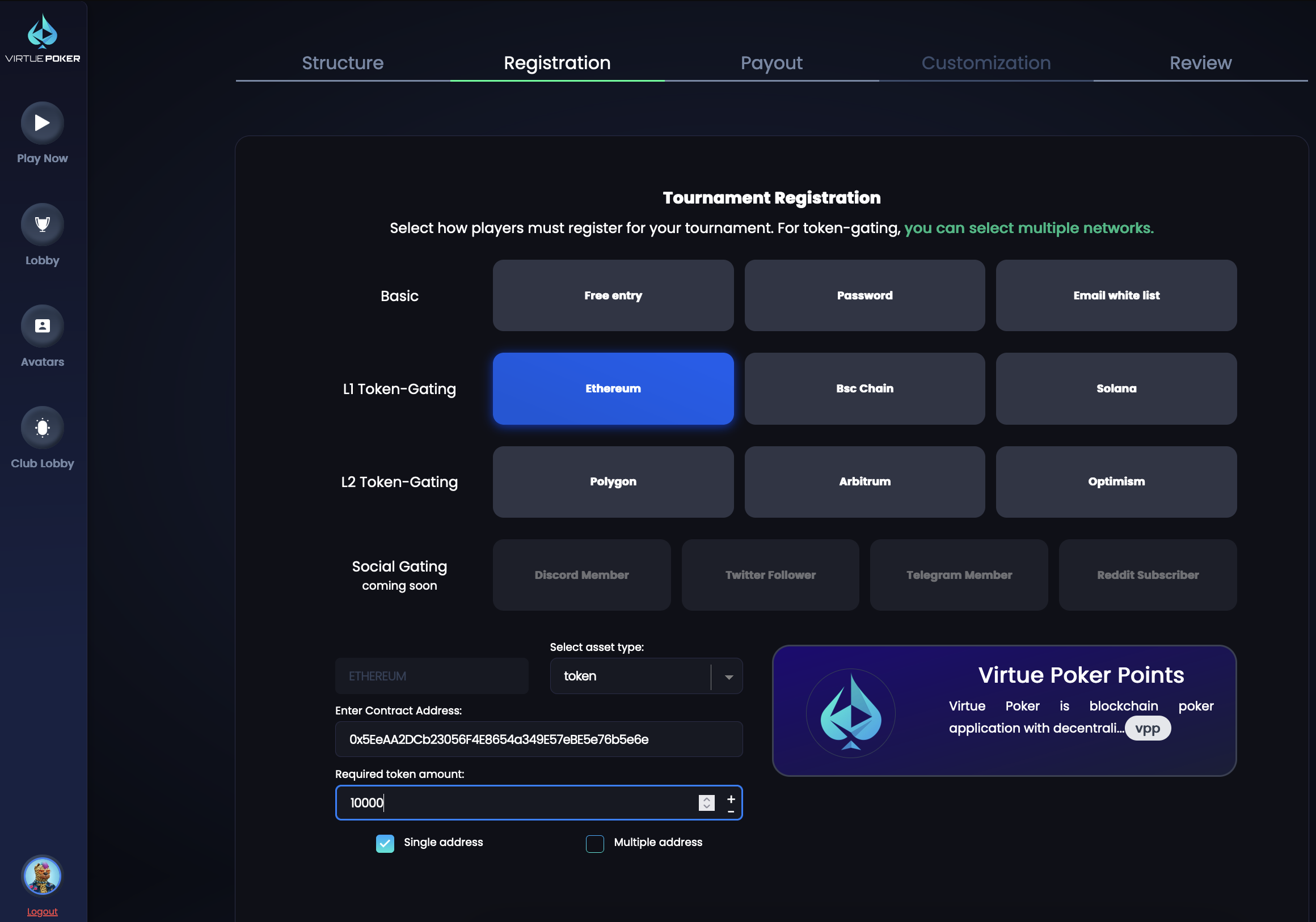 When a club owner/admin goes to add tournaments to their poker lobby they can token-gate each event differently. This allows a club owner to be creative in how they schedule their events for different audience segments within their community:
VIP Events: within a club, a club owner can select a high threshold of tokens a player needs to hold to enter event, or select the most exclusive NFTs from their collection.
Freeroll Events: a club can select no gating options, and allow all members of their club to participate.
Email list Only Event: a club owner can incentivize their community members to subscribe to their email list, by creating events exclusively for their mailing list.
Spotlight Partnerships + Cross-over Events: a club owner could invite another community to compete in a cross over event, that would allow owners of NFT/tokens from either community to participate in an event.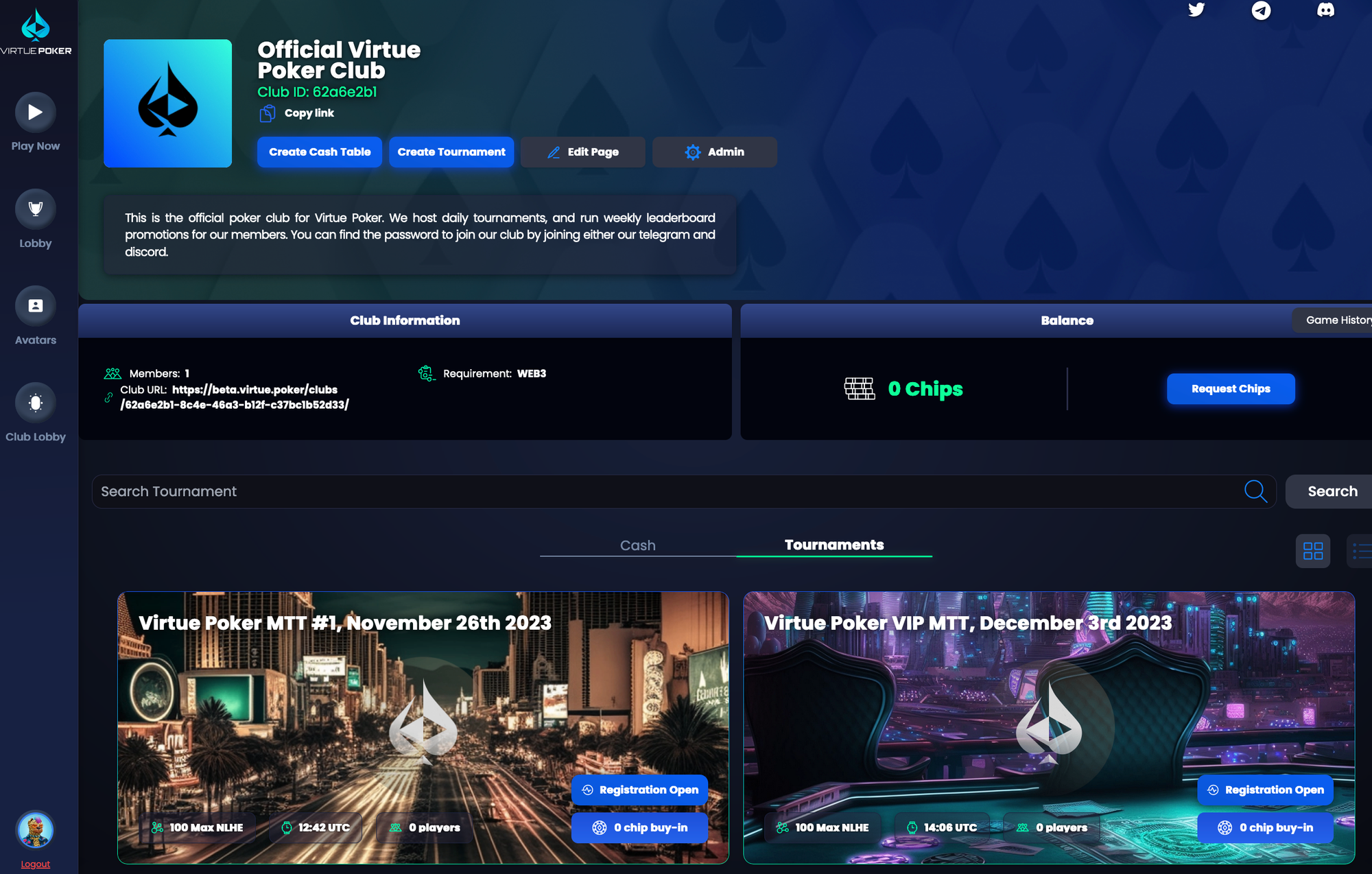 Step 4: Configure your admin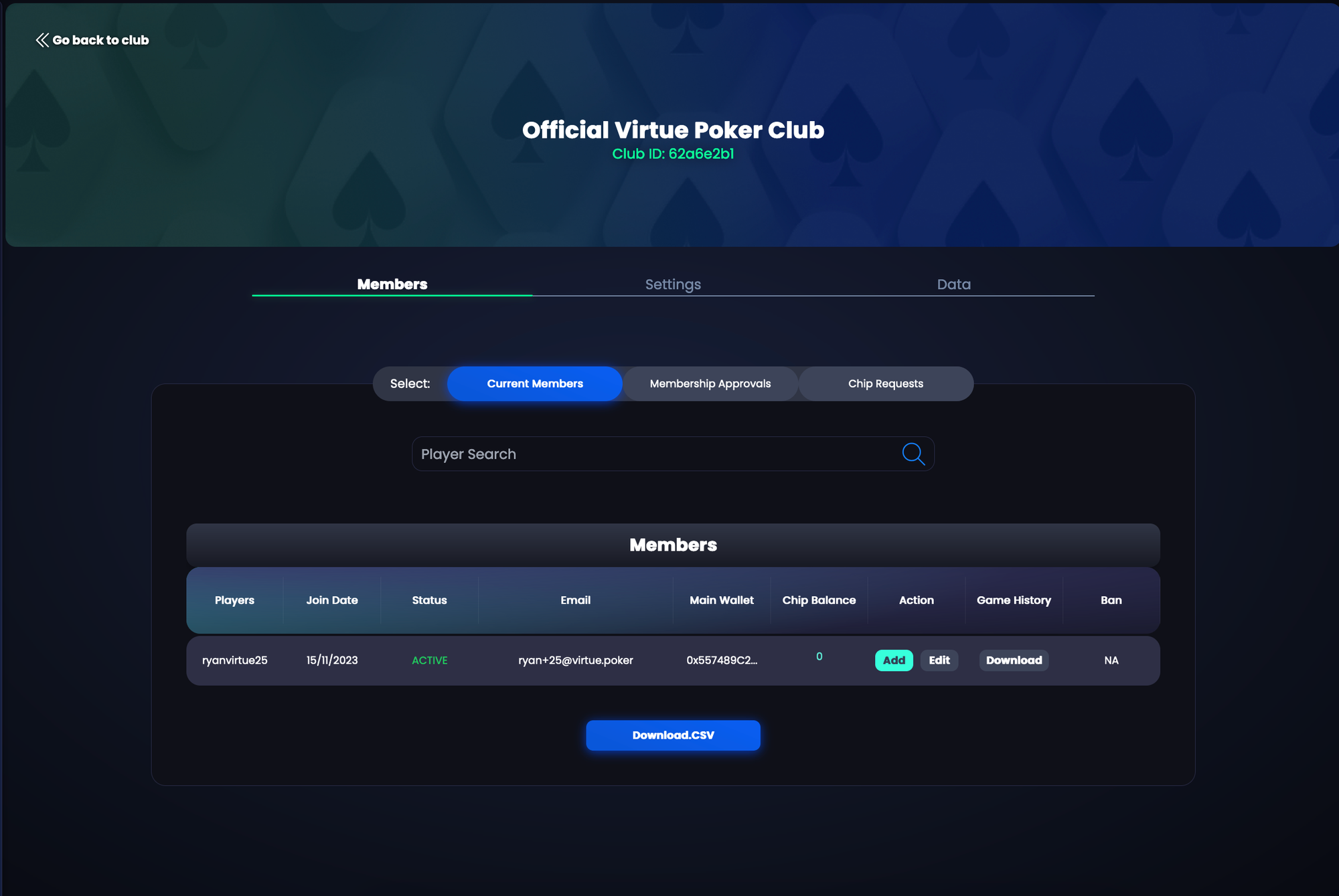 Club owners have access to an admin that allows owners to:
View members
Ban/suspend members
Approve/reject new member applications
Approve/reject chip requests (more on that below)
Enable/disable automatic approval of new members
Set the default starting chip stack for new members
More features will be added for the admin for club owners over time.
Step 5: Utilize chips for poker games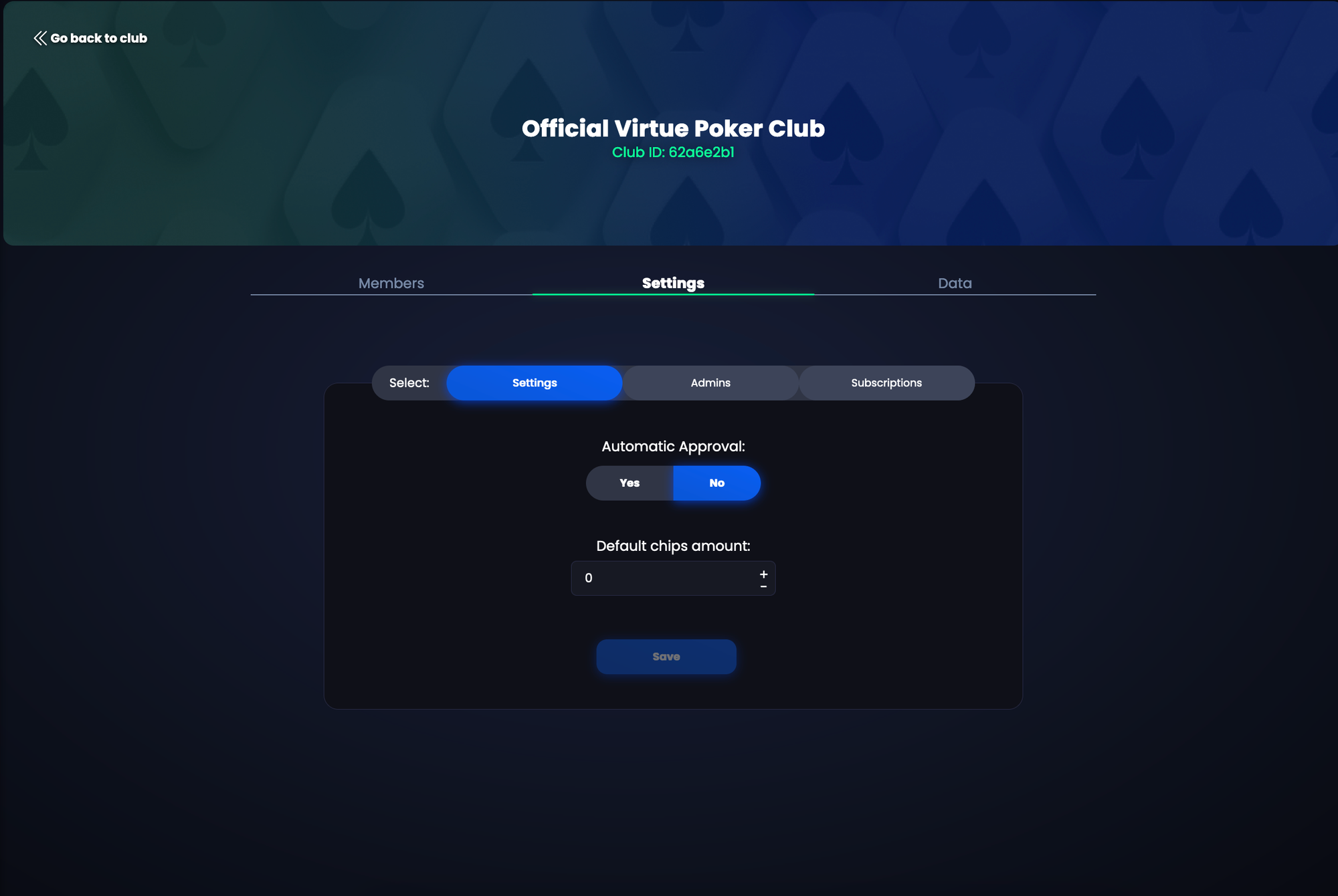 Club owners have the option to utilize chips within their clubs. They can decide to automatically distribute a set number of chips to each new member upon joining the club, or manually send chips to each individual player.
Player can request chips from club admins, and club admins can approve, edit or reject those requests.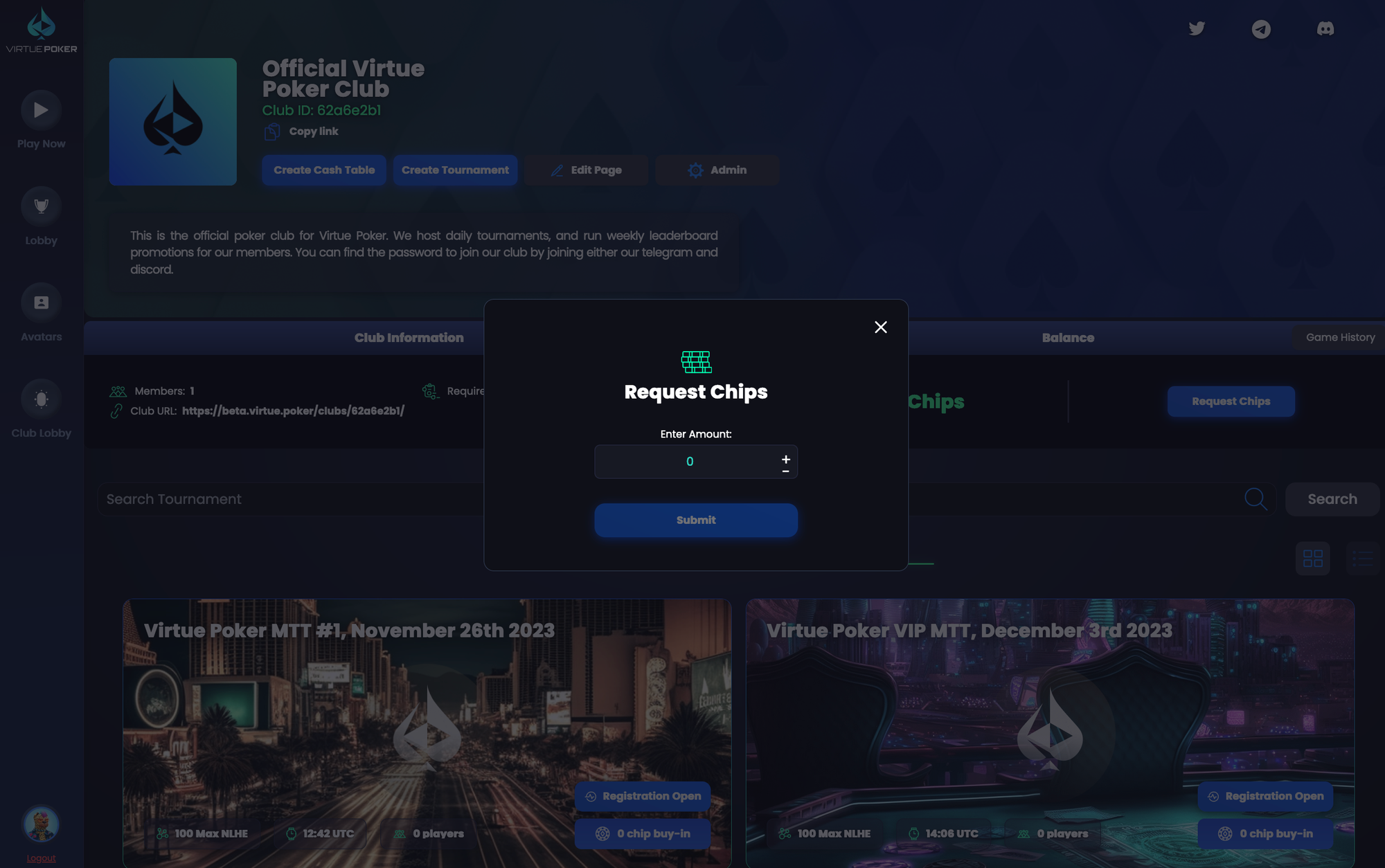 Utilizing chips is beneficial for several reasons:
Create unique competitions: Using chips is a great way for club owners to run promotions and competitions. Players can compete in both cash games and tournaments with the goal of accruing the most chips. It also creates an added level of competition because players need to manage their chips bankroll
Reward Top Community Members: chips allows for club owners and community managers to reward loyalty, by distributing chip bonuses to players who for example: play in the most competitions, are the most active in their discords, or shared a social post
Provide additional utility to NFTs/or token ownership (or staking): A club owner can add utility to their NFT or tokens by creating chips-based incentives to holding, staking, or using their NFTs. It allows allows for chips bonuses to be tied to the rarity of an NFT. For example, Yuga Labs could decide for their club that all BAYC holders receive 1000 chips at the start of the month for poker competitions, while MAYC receive 200, and BAKC receive 50.
Allow Player to keep track of performance: Utilizing chips is a great way for players to keep track of the win/loss rate across tournaments and cash tables. It also allows club owners to create leaderboards (coming soon)
The Official Virtue Poker Club Launches Today
We are also pleased to announce the launch of the Official Virtue Poker Club today. Our club will only require a password to join, however a majority of our events will require players to either hold (or soon burn) VPP tokens in order to participate.
How to Join
Create an account: Go to virtue.poker and create an account
Enter the password: VirtuePokerOfficial!
That's it!
Upcoming Tournament Calendar
To celebrate the launch of poker clubs on Virtue Poker, we are please to announce a 5-day promotion with $1500 GTD in prizes!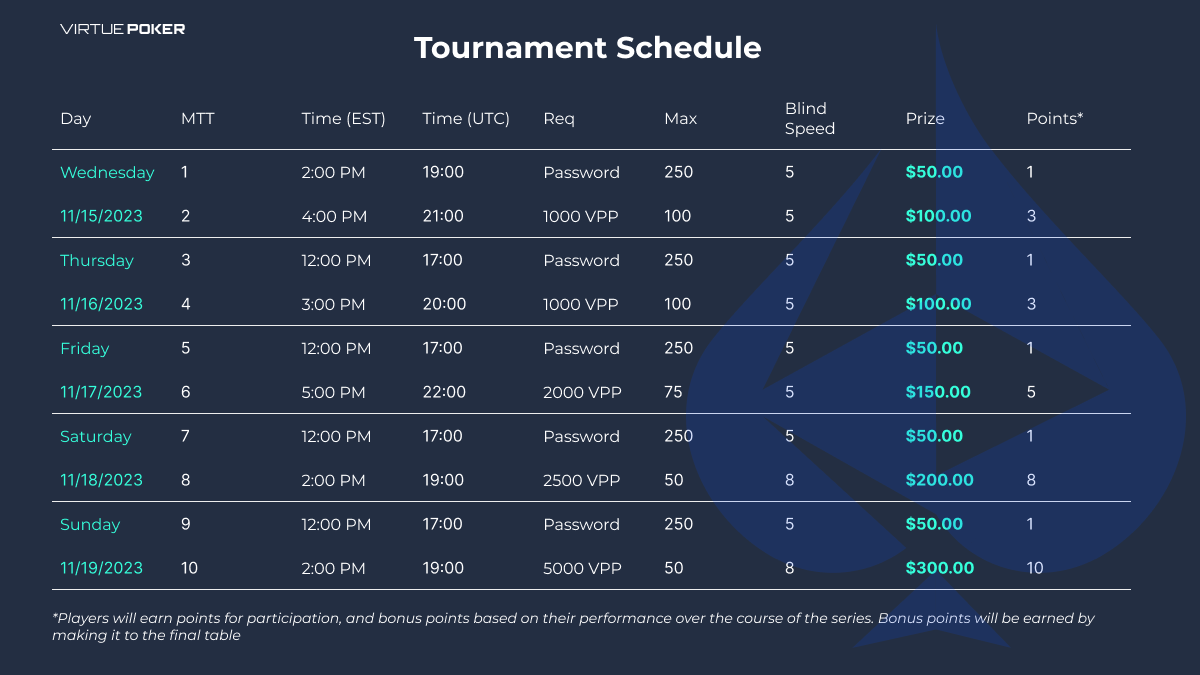 Players will compete to earn points towards a leaderboard - where an additional $500 will be split among the top 5 players based on their point total.
NOTE: VPP held on Ethereum or BSC Chain will work
Players will earn points for participation, and bonus points based on their performance over the course of the series. Bonus points will be earned by making it to the final table.
Bonus points earned based on finish:
1st: 15
2nd: 10
3rd: 8
4th: 6
5th: 5
6th: 4
7th: 3
8th: 2
The top 5 players will be awarded prizes at the end of the week:
1st - $150
2nd - $125
3rd - $100
4th - $75
5th - $50
Good luck and we'll see you on the tables!
The Virtue Poker Team