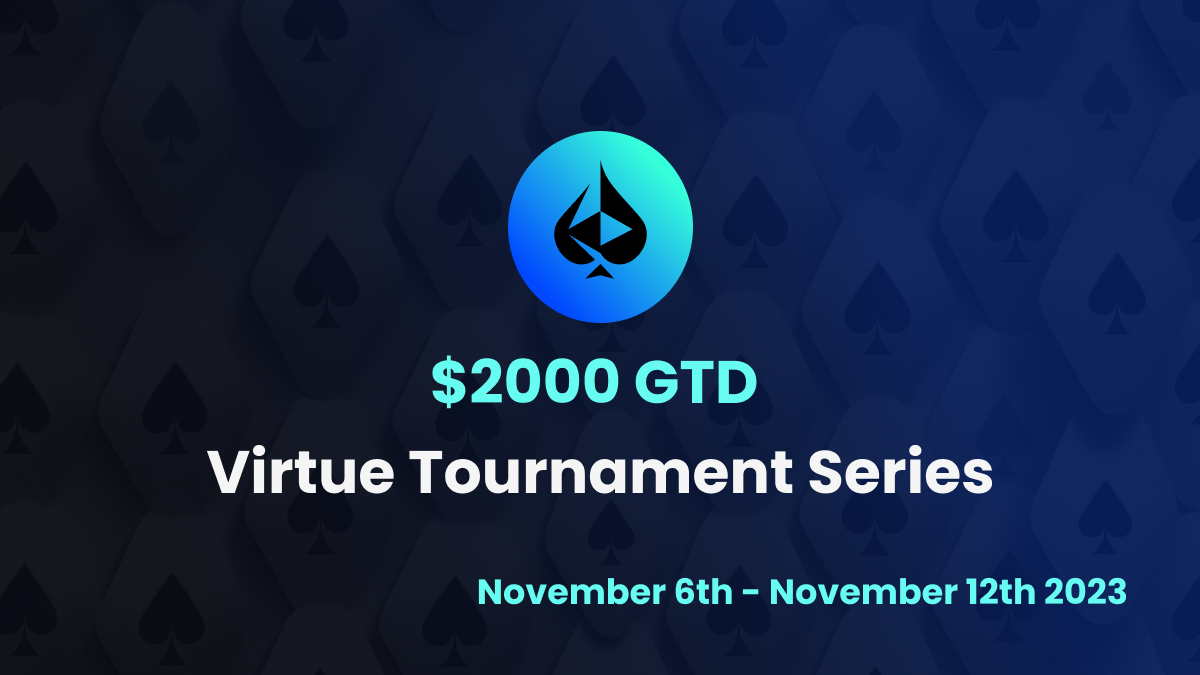 Each day this week (Monday November 6th - Sunday November 12th) Virtue Poker will run 2 scheduled MTTs:
~1 pm EST* - 200 max - no VPP - $50 prize
~3 pm EST* - 100 max - 500 VPP req - $50 prize
*announcements will be made ~1-2 hours in advance - tournament times subject to change. Virtue reserves the right to add additional tournaments to this schedule
Surprise Tournaments
In addition, Virtue will host 4 Surprise Tournaments with boosted prizes. These 4 surprise tournaments will have prizes ranging from $100 to $300 for each individual tournament.
NOTE: Some of the surprise tournaments may require users to hold a minimum amount of VPP (ranging from 1000 - 5000 VPP)
These surprise events will be announced anywhere from 4 hours to 24 hours in advance.
Tournament Announcements
Each tournament will be announced in our Telegram and Discord channel and registration will be available on a first-come basis, so make sure to check in daily to our channels to see when registration opens.
The winner of each tournament will receive a minimum of $50 (with Surprise Tournaments having boosted prizes).
In addition, players will compete to earn points towards a leaderboard - where an additional $500 will be split among the top 5 players based on their point total.
Players will earn points for participation, and bonus points based on their performance over the course of the series. Bonus points will be earned by making it to the final table.
Points regular tournament: 1
Points for 500 VPP-gated tournaments: 3
Points for Surprise Tournaments: ??? (will be announced in Telegram/Discord)
Bonus points earned based on finish:
1st: 15
2nd: 10
3rd: 8
4th: 6
5th: 5
6th: 4
7th: 3
8th: 2
The top 5 players will be awarded prizes at the end of the week:
1st - $150
2nd - $125
3rd - $100
4th - $75
5th - $50
Thank you to everyone who participates and helps the Virtue team stress test the app as we continue to improve the scalability of our software.
See you on the tables,
The Virtue Poker Team