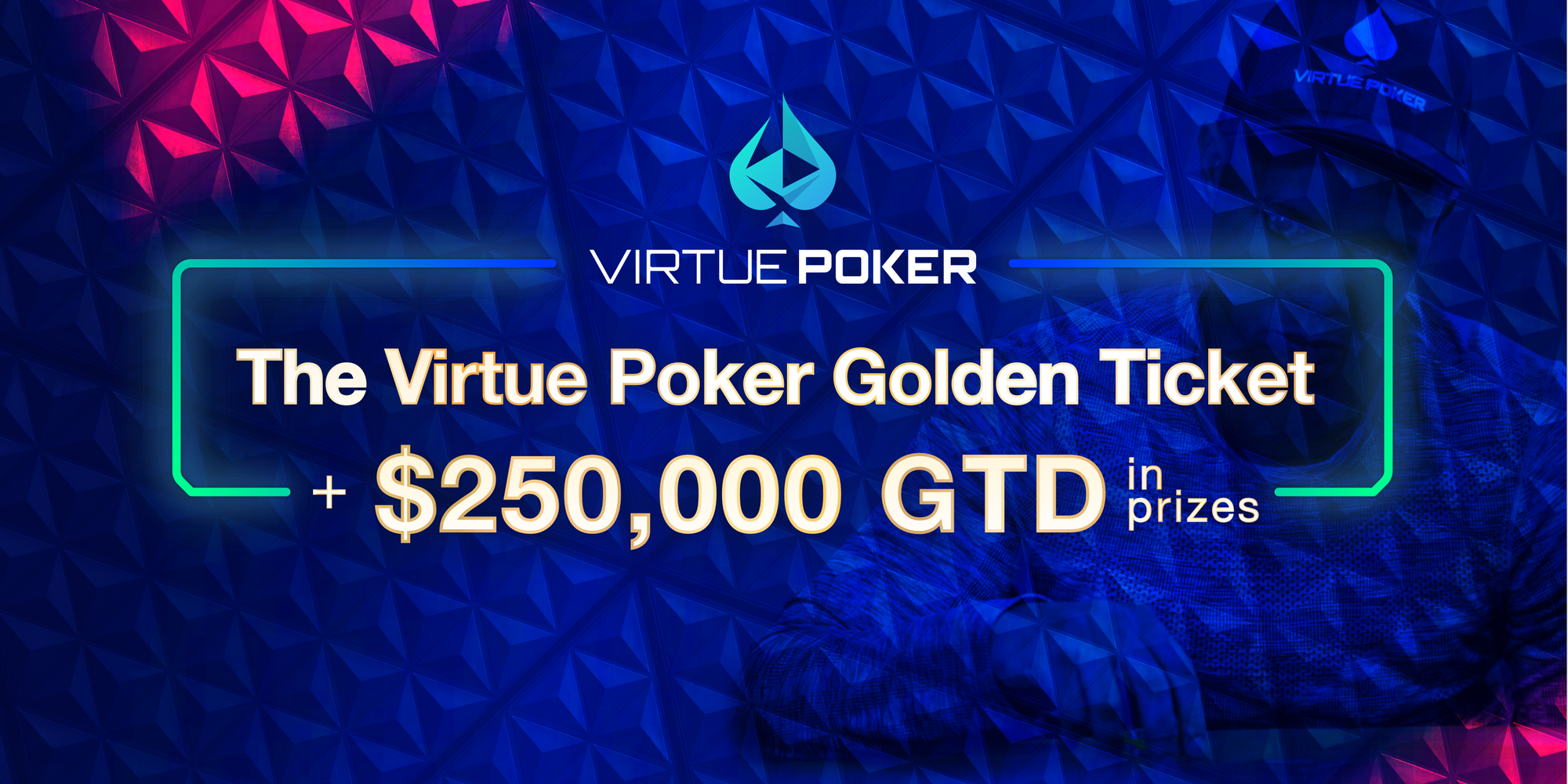 First off - we wanted to thank those who participated in our Launch Promotion. We were able to generate over $2,000,000 in wagers, $500,000 in deposits and had over 450,000 hands played.
We had several users win upwards of $10,000 USD throughout the course of the promotion - and now we are happy to announce there are more opportunities for you to win playing on Virtue Poker in our upcoming promotion, including an entry to our Celebrity Poker Tournament that includes Ethereum Co-Founder Joe Lubin, NBA Hall of Fame player Paul Pierce, YoutTube phenom Mr. Beast, and Hollywood actor Vince Vaughn.
For this promotion - the majority of random prizes, drawings and lotteries will be held on our VPP table games - however we will re-launch a new grinder competition on ETH tables for those wishing to compete for those top ETH grinder prizes.
And most importantly - every new user in a non-geo blocked country will be able to compete for our VPP table promotions for free!
1 VPP Promotions
1.1 Sign-Up Bonus: Play VP, earn $200 VPP for Free
To help jumpstart gameplay on Virtue Poker, we are happy to announce that for the first two weeks, any new player can receive up to 2000 VPP in sign-up bonuses - just by creating an account!

Sign-Up Bonus Structure*:
*NOTE: Sign-up Bonus launches Tuesday July 27th
Upon Sign-Up
100 VPP in their external Source of Funds wallet
650 VPP in their internal gameplay wallet upon their completion of sign-up
After completing 5 VPP tournaments
Receive an additional 500 VPP bonus in their internal player wallet on August 2nd or August 9th.
After completing 50 VPP tournaments:
Receive an additional 750 VPP bonus after conclusion of promotion.
Players can compete and play using their VPP bonus for various prizes and promotions on the Virtue Poker platform including:
Random ETH drawings on VPP tables
Daily Jackpot on VPP tables
Virtue Poker Multi-Step Tournament Satellites for an entry to our Celebrity Poker Tournament
If a new player wins a random ETH drawing or lottery prize, their prize will be paid out to their internal wallet even if they have not met their playthrough requirements.
**NOTE: Players will have VPP transfers on their external Source of Funds restricted until they meet playthrough requirements. ETH transfers will NOT be restricted. Playthrough requirement is 5 tournaments for the reload bonus, and 50 completed VPP tournaments to unlock their external wallet. Any player that is caught colluding or chip dumping will forfeit their bonus and have their account banned - along with any other associated accounts.
1.2 Random Drawings
Randomly throughout the course of the Promotion, Virtue Poker will announce in our Telegram channel a drawing. Players will receive entries to the drawings by completing the following:
1 entry for participation
1 bonus entry for each victory
NOTE: Most random drawings will be conducted on VPP tables throughout the duration of this promotion.
1.3 The Virtue Poker Golden Ticket
Virtue Poker will run weekly Multi-Step Tournaments with a buy-in of 100 VPP. Players can enter an unlimited number of satellite tournaments, however a player can only win (1) seat to the Day 2 Semi-Final event on Sunday and (1) seat to the Final Table.
The Multi-Step Tournaments will have the following format:
Semi-Final Multi-Step Weekly Tournaments (5 total)
(16) 4-max satellites of hyper format NL Hold'em ran throughout each week with a buy-in of 100 VPP
Winners advance to Day 2 Final on Sunday
(4) 4-max SNG Quarterfinals with winners advancing to a
(1) 4-max SNG Semi-Final with $2000 USD added prize pool (1st: $1000, 2nd: $750, 3rd: $500, 4th: $250)
Final Table (1 total)
(6) Semi-Final winners will face off in a Final Table on August 22nd 2021
(1) Winner receives an entry to play in Virtue Poker's Celebrity Tournament
Added prize pool of $10,000 (1st: $4500, 2nd: $2000, 3rd: $1250, 4th: $1000, 5th: $750, 6th: $500)
1.4 The Daily Jackpot
Virtue Poker will deploy a 4-max SNG with a hyper tournament structure with a 50 VPP buy-in. If you win the tournament you will be entered into a drawing whereby one person each day will win $500 USD. The more times you win, the more entries you get!  
*NOTE: All USD prizes will be paid in ETH based on current Coinmarketcap price of ETH at the time of payment. Daily Jackpot promo ends August 13th 2021.
2 ETH Table Promotions
2.1 Grinder Competition

During the promotion period (July 23rd 2021 - September 15th 2021) - players will compete for the above ETH bonuses. Bonuses will range from 0.015 ETH all the way up to 6 ETH!
Players can earn Grinder Points (GP) through their play on the platform. The GP system is based on rake paid. The first 50 players to reach 50 GP will receive 0.15 with the first player to reach 1000 GP receiving 6 ETH.
Players must maintain a minimum balance of VPP either in their internal or external source of funds wallet to be eligible for Grinder Promotion prizes (daily average taken into account).
NOTE: Grinder points can only be received through play on ETH tables. A maximum one grinder prize can be granted per user.
2.2 High Stakes Sunday
On Sundays, Virtue Poker will enable two high stakes table games for our most competitive players to take part. We will enable one Sit and Go 4-max with a 0.25 ETH buy-in and one cash table with a 0.5 ETH buy-in.
Cash
Sit and Go
Players can take advantage of High-Stakes Sunday to boost their Grinder Points totals for those choosing to compete in our Grinder Competition.
In addition, Virtue Poker will randomly announce additional special prizes for those who participate in high-stakes Sunday events.
3 Table Configurations and Grinder Point Rewards
Virtue Poker will offer a variety of Cash Game tables and Sit and Go tables on the platform.
Players can earn grinder points through their play on either Sit and Go tables and Cash tables. For both game formats 1 GP will equal 0.0025 ETH paid in rake. A player will be able to check their Grinder Point status by going to https://virtue.poker/leaderboard/
NOTE: 1 finney = 1/1000th of 1 ETH
Cash
Sit and Go
5 Referral Program
Virtue Poker will launch an updated referral program based on player feedback. For each player you refer to Virtue Poker - you will receive 20% of the ETH rake they generate on the platform (player must play minimum 10 Grinder Points).
NOTE: Referral payouts happen at the end of the promo period.
5 Conclusion
Virtue Poker is excited to continue to offer new and exciting promotions to our loyal player base. We are thrilled to have the opportunity to send one of our players to our Celebrity Poker Tournament and play alongside Phil Ivey, Mr Beast, Paul Pierce and Joe Lubin.
And we are open to your feedback! If you have a promotional idea, feature suggestion, or general feedback - we encourage you to leave feedback by completing this short survey.
Thank you again for your support - and we will see you on the tables!
Virtue Poker Team