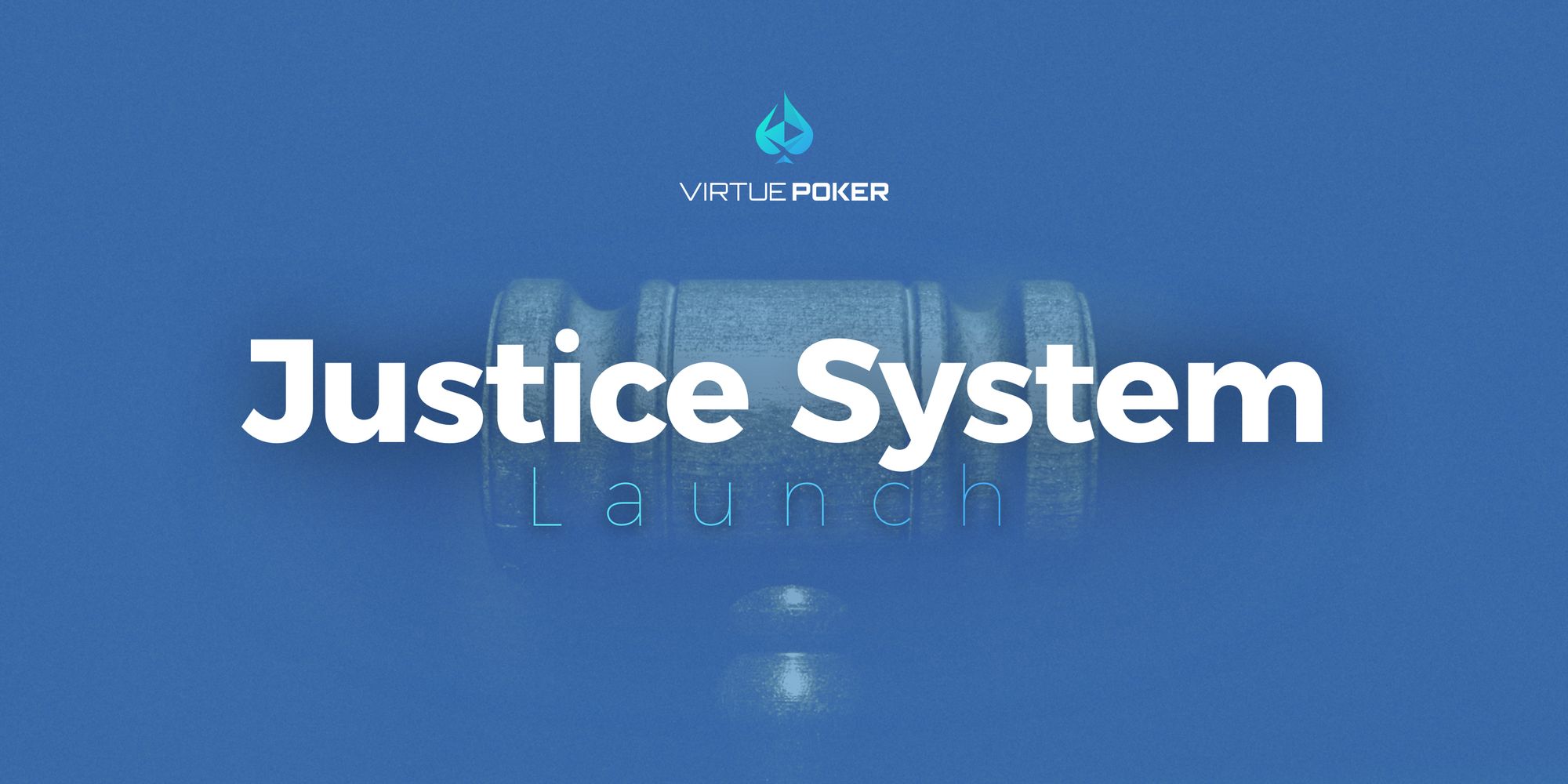 Thank you for your patience and understanding as Virtue Poker has worked to build out and launch our platform and our VPP token. We are proud to say our launch has been off to a fantastic start - especially considering the uncertain market conditions.
Justice Staking Process
Beginning today, Virtue Poker will allow our Justice purchasers from 2018 to move their VPP tokens to our staking contract.
The Justice Staking contract can be found here:
0x7a63D01620b6919BC68FE0DF3BAe0c323B28918f

The process is as follows:
Register your Justice node(s) in virtue.poker/Justice (if you haven't already)
Send your VPP tokens to the wallet address above
Send a transaction ID from etherscan for your VPP token submission to support@virtue.poker with your name for verification
The Justice System currently has 325 committed Justice Nodes. You can increase the amount of Justice nodes you'd like to run even if you previously indicated a lower amount. However - after you submit your VPP tokens to the staking contract - you will no longer be able to increase the number of nodes you run.
Vesting
Vesting: Token buyers from 2018 who purchased 200,000 VPP or more will have to first stake their VPP tokens to run a minimum of (1) Justice node before accessing their VPP tokens. VPP tokens submitted to the address above will be locked for 6 months.
All remaining VPP tokens will be subject to a 1-month cliff and 12.5% a month vesting for an additional 8 months. The first claimable day will begin tomorrow (June 29th) as the first 1 month cliff has passed as of today.
NOTE: If you do not submit a minimum of one node to the contract your tokens will remain locked. The vesting period began on May 28th 2021 - and vesting is only applied to VPP tokens that are not staked.
Justice System Process and Payments
Virtue Poker has employed a 400 Justice Node cap for 12 months post launch. And there will be a 20 Justice Node cap per token buyer initially. Each individual token buyer who is eligible to be a Justice will first have the right to stake their maximum amount of tokens to run their maximum amount of Justice Nodes.
Your individual payment will be based on
[Your individual VPP stake] / [Total VPP staked]

As a reminder, Virtue Poker will pay 50% of the platform fees to our Justice nodes.
Initially, Virtue Poker will have our Justice Nodes hosted by Virtue Poker and will be working to have it hosted by a 3rd party provider. Therefore, no additional action at this time is required to be part of the Justice System other than submitting your VPP tokens to the contract above.
Virtue Poker will make quarterly payments to our Justice nodes beginning after July 31st 2021. Payments will be made to the address that sent VPP tokens to the Justice address.
Virtue Poker Justice and Revenue Metrics
Below you can see our revenue statistics for the first 31 days of our launch:

Virtue Poker did ~€60,000 ($72,000)  in revenue in our first month. With no growth - 50% of those fees ($36,000) would go to Justices. Virtue Poker would generate approximately $1350 in fees per Justice node - and with an initial cost of $25,000 - this would equate to ~5.5% APY. Virtue Poker expects to dramatically increase of revenue and growth over the course of the year.
Conclusion
While the delay and wait was difficult for us all - we are happy to say this year we accomplished several key milestones:
First and only licensed blockchain based gambling platform by the Malta Gaming Authority
Over $5 million in new funding
IDO on SuperStarter
$VPP launch on Uniswap and Pancakeswap
Virtue Poker main net launch
There is significant room for growth and improvement in the Virtue Poker ecosystem, and our team will be hard at work working to build our player base and grow the $VPP ecosystem this year. Our key initiatives will be:
Launch on CEX
Celebrity Poker Event with Mr Beast, Paul Pierce, Phil Ivey and many more
Expansion in Southeast Asian Region
Launch of Multi-table Tournaments
Key 3rd Party Partnerships with other well-established blockchain DApps
We again wanted to thank our committed 2018 Strategic buyers for supporting us throughout the last few years.
Warm Regards,
Ryan Gittleson
CEO of Virtue Poker