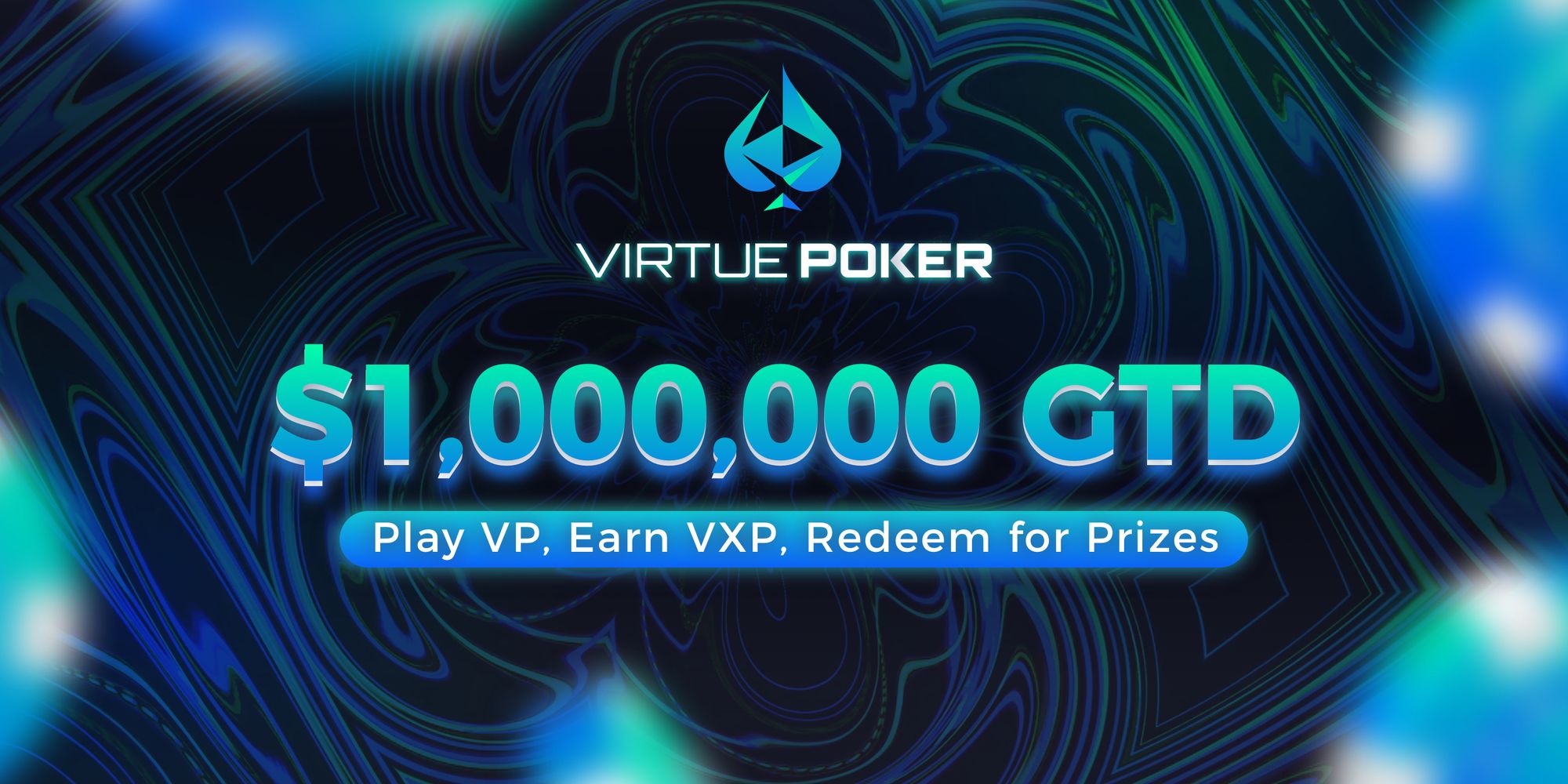 Thank you to our community for their patience - we are excited to announce that Virtue will be giving away up to $1,000,000 worth of prizes in VPP, USD, ETH and other prizes during our next promotion which begins today, October 18th 2021 and will run until November 15th 2021.
And for the first time, all table games will be conducted in VPP.
All players will compete in VPP table games to earn "VXP" or Virtue Experience Points that they can use to redeem for USD and VPP prizes.
1 VXP = 1 VPP paid in Rake
We are also pleased to announce that we will be offering a 100% deposit bonus for all players.
Our goal is to use this promotion to kickstart play on Virtue Poker in anticipation of our Virtue Gaming P2E launch in the USA later this year.
And we are pleased to announce that our cash tables now have top-up, re-buy and variable buy-ins! Also all tables feature new sounds and animation to make your playing experience more enjoyable.
Here's how you can earn your share of prizes:
100% VPP Deposit Bonus
All players will receive a 100% deposit bonus on their first deposit only
(200 VPP min, 4000 VPP max, new deposits only )
The deposit bonus:
is only valid for your first deposit
is available to all players
Accrued based on play (for each VXP earned, 1 VPP is accrued)
Accrued VPP (4000 VPP max) will be paid at the end of the promotion
For example, if a player deposits 2000 VPP, they can earn up to 2000 VPP as a bonus (paid at the end of the promotion). A player will need to accrue 2000 VXP to unlock their full bonus.
Play VP, earn VXP, Redeem for Cash Prizes
Virtue Poker is happy to introduce "VXP" (Virtue Experience Points) to the Virtue Poker platform. VXP can be earned through your play on the platform. For every 1 VPP a player pays in rake, they will earn 1 VXP.
VXP can be earned through your play both on Cash Tables, Sit and Go's and Multi-Step Tournaments.
At the end of the promotion a player's "VXP" can be redeemed for the following prizes listed above. All players who reach 500 VXP or more will receive both VPP and USD prizes, plus there are no caps to each prize level.
Stay tuned, more special prizes for VXP will be announced throughout the duration of the promotion.
Weekly Multi-Step Tournaments
Virtue Poker will announce each week special multi-step tournaments that all players can compete in. We will add various prize pool on top of the VPP prizes that can be won.
Our first 25 VPP buy-in MST this week will have $1,000 USD added split across the four finalists.
Second Chance Bonus
All players who did not reach the 50 VPP tournament play through requirement for our Golden Ticket Promotion will have a second chance to unlock their VPP balance.
Players will need to reach 100 VXP during this promotion period to unlock their VPP balance. And, most importantly, these players will be eligible for the VXP Prize Store. A player who reaches 100 VXP will both unlock their balance and receive a VPP bonus.
Random Daily Drawings
Virtue will continue to randomly announce daily drawings whereby players can earn entries with prizes varying from $200 up to over $5000.
All random daily drawings will be announced in our Telegram channel first.
Weekly Jackpot
Virtue Poker will randomly announce a Weekly Jackpot where players can earn entry through earning a minimum amount of VXP during the course of the week.
Table Deployment
Conclusion
As always we want to thank our community for their continued support. We will have more special announcements, prizes, and promotions released during the next few weeks.
We have several key announcements coming soon including:
CEX listing
Virtue Gaming P2E USA Launch Date
Special NFT Prizes
We'll see you on the tables!
The Virtue Poker Team