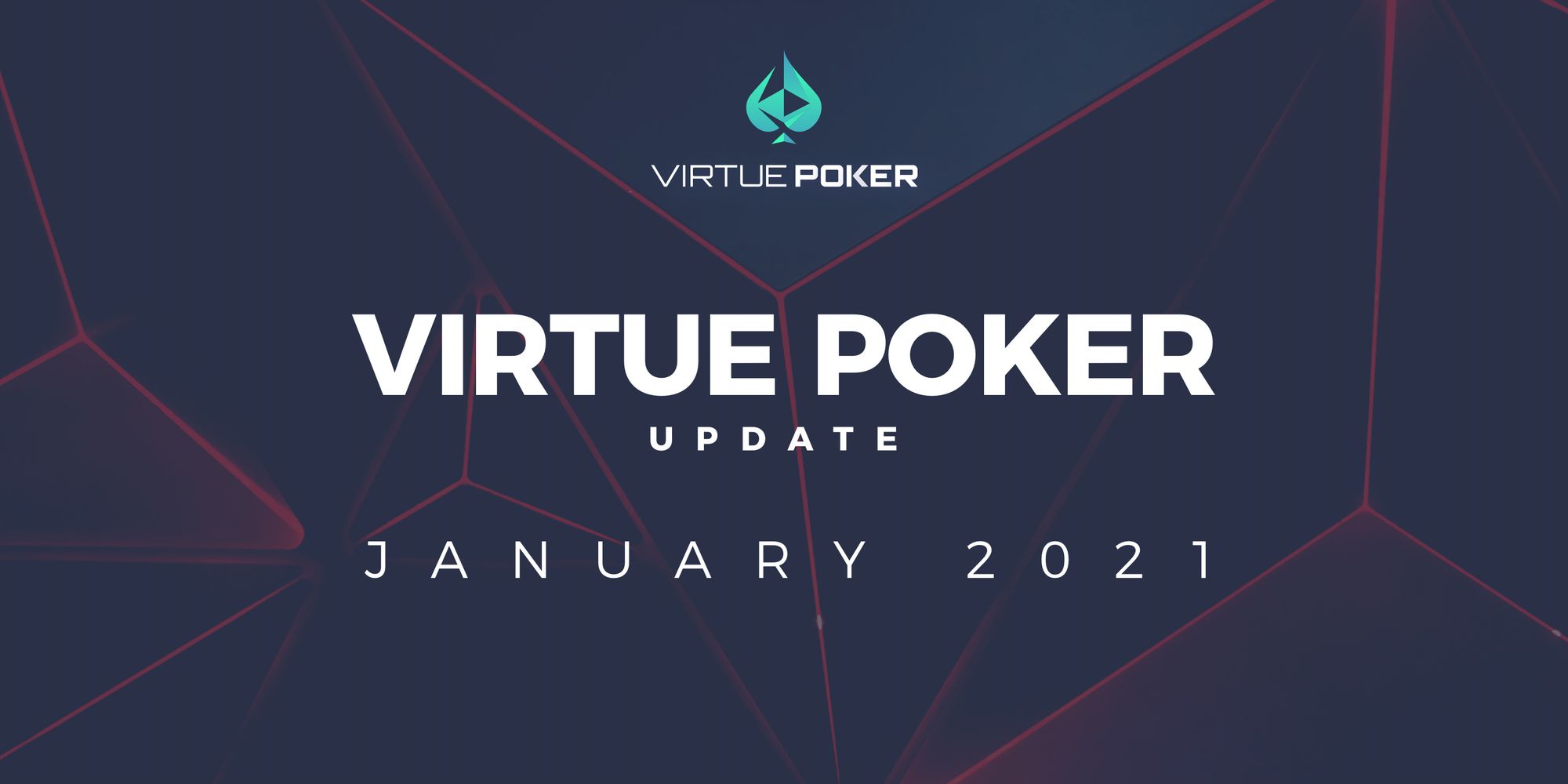 We want to wish our community members a happy new year. We appreciate all of those who have participated in our previous beta rounds including most recently our launch test and pre-launch party promotions.
Your continued gameplay, feedback and support helps our team continuously improve our application.
Based on the feedback of the community, we've included an update on the VPP token, and our plans for the future. We do understand that many members are frustrated with the delays in unlocking the token. Circumstances outside of our control, particularly around licensing, has led to a longer delay than originally anticipated. However, we do believe that Virtue Poker is posed for a very successful 2021. Below are updates on various initiatives:
Launch Test Statistics

Virtue Poker since the beginning of its launch test has seen over over $500,000 in deposits, $1,000,000 in wagers, and $100,000 in revenue. In addition, the platform has had over 300,000 hands and 4,000 tournaments played. A big thank you to all who have played so far.
Malta Gaming Authority License

Virtue Poker is the first applicant to go through the Malta Gaming Authority's DLT Regulatory framework for Remote Gaming companies. Under this framework, Virtue Poker had to undergo two separate audits by two different regulatory bodies within Malta: a Systems Audit to ensure we met the high gaming standard of the MGA, in addition to an audit by the Malta Digital Innovation Authority (MDIA) which focuses on blockchain network security.
We are pleased to announce we have conducted, passed, and submitted both of these audit reports. We are now waiting for the Malta Gaming Authority to approve our license application and issue the license. We are optimistic that this will be done in February 2021.
Product Improvements and Roadmap

The Virtue Poker development team has continued to work on bug fixes and improvements. The next release of the application will prevent a player from being logged out due to inactivity if that player is registered for a tournament.
Going forward, our next major milestone includes the following:
Cash Table Improvements: auto-rebuy/top-up, rake attribution model for loyalty, other bug fixes
Multi-Step Tournaments: A unique tournament structure whereby players compete in satellite tournaments to win a seat towards a 36 player 2-step Day 2 event.
Referral Program: Allow our current player base to earn bonuses and fees from players they recruit to play on Virtue Poker
Updated Loyalty Program: The Virtue Poker team will implement a rake contribution model for loyalty and rewards programs going forward.
Multi-Step Tournament Structure

This structure will allow at the minimum one weekly tournament that has 216 entries creating a significantly larger prize pool than what can be found in other games currently offered on Virtue Poker. This will also allow us to run special tournaments with grand prizes including World Series of Poker entries, and other unique giveaways.
Multi-step tournaments are an interim step to our development and launch of traditional Multi-Table Tournaments. We will create several variations of Multi-step tournaments while the full MTT development is ongoing. The basic structure is the following:
Each day satellites are run (6-max). The winner of the satellite moves onto a scheduled tournament on Sunday
Satellites are run until there are 36 winners.
A player can enter multiple satellites, but can only win a MAXIMUM of one seat to the Sunday Special Tournament.
Once a player has won a seat, they no longer will be able to register for additional satellites.
The 36 winners are automatically registered for the weekend's Sunday Special Tournament
The Sunday tournament will have two steps: the Semi-Final round is comprised of 6 Sit and Go's tournaments that play down to 6 winners
The Final Table includes the six winners who compete for prizes  
We will provide more information on Multi-step tournaments as we get closer to their launch. Their development is well under-way.
4 ETH Token Sale Contributor Freeroll Tournament

In addition, the Multi-Step tournament structure will be used to allow our token buyers who contributed greater than 4 ETH in our original token sale to play the event in a more timely manner. More details on the scheduling of the 4 ETH Contributor Freeroll Tournament will be provided as we get closer to launching Multi-Step Tournaments, including information on the prize structure. Our goal is to host this event in Q1 2021.
VPP Token Unlock Schedule

The Virtue Poker team understands the frustration with the delay in unlocking the VPP token. Our current plan is to unlock the tokens in February 2021. In the event our license is delayed, we will still unlock our tokens in February.
Token Buyers
If you were a token buyer, the VPP tokens you purchased will be available in the Ethereum wallet address you used to purchase your tokens.
Beta Players
If you earned VPP tokens during the course of one of our Beta Rounds, your tokens will be available in your Virtue Poker account in the app. If you are a token buyer, your VPP tokens earned during the Beta will be deposited into your VP account, while the tokens you purchased in the token sale will be available in your ETH account used to buy tokens on mainnet.
Geo-Restriction Banned Beta Players
If you were a Beta player who earned VPP tokens, but were banned due to geo-restrictions we will contact you to let you know how to claim your tokens.
Many individuals have been worried about the tokens distributed during our free-to-play and launch test beta promotions. The additional VPP awarded throughout the course of all promotions will be less than 6% of the total circulating supply of VPP tokens upon network launch.
VPP Token Listing

Initially, Virtue Poker will work with our partners to create a market on Uniswap for the VPP/ETH trading pair while we continue to work to add larger exchanges. Uniswap is the largest decentralized exchange in the world with over $1 billion in total daily volume. In addition, it is convenient for users to trade and exchange tokens without having to create new accounts on centralized exchanges.
However we do understand the importance of listing VPP on large centralized exchanges. We are still in discussions and negotiations with several large exchanges who we plan on working with this year. Our goal is to have more exchange listings by the end of Q2 2021.
Virtue Poker's ability to grow our player base will only help our conversations with these exchanges. So we encourage all our players to take part in our referral program when it goes live to help Virtue Poker grow and thrive!
Justice Staking

Virtue Poker is still currently working to solidify our staking partner. We will be contacting all token buyers who purchased 200,000 VPP or greater regarding next steps before the end of January. We will ask you to complete a form indicating how many Justice Nodes you will be looking to run. This is by no means a hard commitment, we are evaluating the initial size of the Justice Staking network. Initially, the operation of the Justice nodes will be done through our third-party staking partner.
Upcoming Marketing and VPP Token Upgrades

Virtue Poker will be launching a new marketing promotion for our full network launch in celebration of unlocking VPP tokens. Only players who maintain a balance of VPP tokens on Virtue Poker will be eligible to compete for this upcoming promotion.
Players who maintain a balance of VPP tokens will be eligible for:
Higher rakeback bonuses
Exclusive access to daily drawings
Voting rights on new marketing proposals
A share of the platform's rake via lotteries and other giveaways.
Our next update will focus specifically on the VPP token and the benefits for players and Justices. This will include VPP balance requirements and more information on the promotions we will be launching.
Thank you again to our community for your patience and continued support. We look forward to growing the Virtue Poker community and building a successful poker community as we progress through 2021. If you have any additional questions or concerns feel free to drop an email to support@virtue.poker and we will get back to you in a timely manner.

Sincerely,
Ryan Gittleson, CEO of Virtue Poker