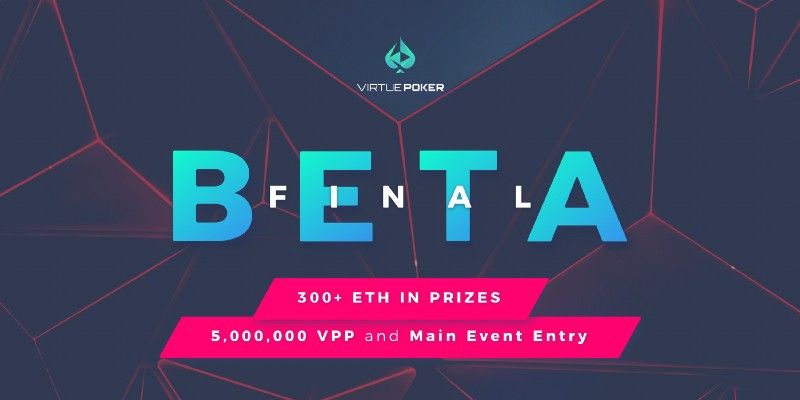 Virtue Poker is offering registered players an opportunity to help us test our software. If you choose to join our Beta program, we will give you opportunities to earn compensation in the form of Ethereum (ETH) and/or VPPs, the Virtue Poker token.
By downloading and installing the Virtue Poker Beta software, you agree to abide by the Virtue Poker Terms and Conditions and by these rules. If there is a conflict between the Terms and Conditions and these rules, the Terms and Conditions shall prevail.
You understand and agree that the Beta software you are using is incomplete. It has both known and unknown bugs, and the unknown bugs are the reason we want your help. When you encounter something that does not work as expected, report it to our Support team and include log files as instructed. You also understand and agree that discovering and reporting bugs is the reason Virtue Poker provides prizes, drawings and competitions during the Beta program.
You understand and agree that Beta software inherently has bugs and can cause your computer to crash. Virtue Poker is not responsible for any damage to your computer, your files or anything else related to your play using the Virtue Poker client. We strongly urge you to back up all files on your computer.
You understand and agree that the sole reason Virtue Poker provides prizes and rewards during its Beta Test programs is as compensation to players for helping test the software. You agree that any prizes or rewards you earn during the Final Beta are given to you as compensation for such testing.
You may not use any automated services, including but not limited to automated players (bots). You may not use any features, bugs or vulnerabilities in the software to circumvent the Terms and Conditions or these Rules. Virtue Poker management may, at its sole discretion, disqualify you from this promotion or disqualify hands and/or Sit & Go tournaments if management reasonably believes that you have violated these rules or have otherwise not satisfied your obligations hereunder.
All of the games and competitions that we offer are subject to our Terms and Conditions. Rules for Sit & Go Tournaments conform to the Tournament Directors Association rules. Rules for ring games conform to TDA rules to the extent they can. Full site poker room rules are still in development.
The integrity of our games is paramount to Virtue Poker. Cheating in any form will not be tolerated in the Beta Promotion. Note that cheating includes the use of bots or other automation that gives you an advantage over your fellow players or the creation of multiple accounts. Any player found cheating during this promotion may be permanently banned from playing at Virtue Poker.
There is no limit on how many prizes you can win, or on the total value of those prizes. However, each player is limited to a maximum of 2 Bust-a-Host bounties per calendar week (Monday-Friday). Virtue Poker reserves the right to request additional documentation before awarding prizes including but not limited to a copy of your passport and proof of your address.
There is no cost to participate in the Beta Promotion. It is your responsibility to ensure that it is legal for you, at the location where you are playing, to play and potentially win prizes of value.
We reserve the right to alter the Beta Promotion as we see fit. We commit to you that the total value of prizes awarded in the Beta Promotion will be no less than the value described in the Final Beta Launch Announcement.
Any decisions made by us regarding gameplay may be appealed, but ultimately our decisions are final.
Special rules for the Ivey's Table promotion
All players who win a seat into the Ivey's Table finale will be subject to a Game Security review and will be required to submit identification, including valid photo ID (passport, driving license, national ID) and proof of residence.
By playing in the Final Beta, you grant Virtue Poker the right to broadcast Ivey's Table and any other tables on which you may play, on Twitch or other similar Internet broadcast facility without further compensation.
You acknowledge and agree that Virtue Poker may use your player name in association with this promotion without further compensation to you. Virtue Poker will always ask your permission before using your real name in any promotions.
The Ivey's Table final table is at 1700 UTC on Sunday, June 7. If you win an entry, the Virtue Poker team will reach out to you to coordinate your participation.
If you win an seat, you must be available to play on June 7. If you are not available on that date, do not play. If you win a seat and are not present for the roll call that begins the tournament, you will be disqualified and your cash prize will be forfeited.