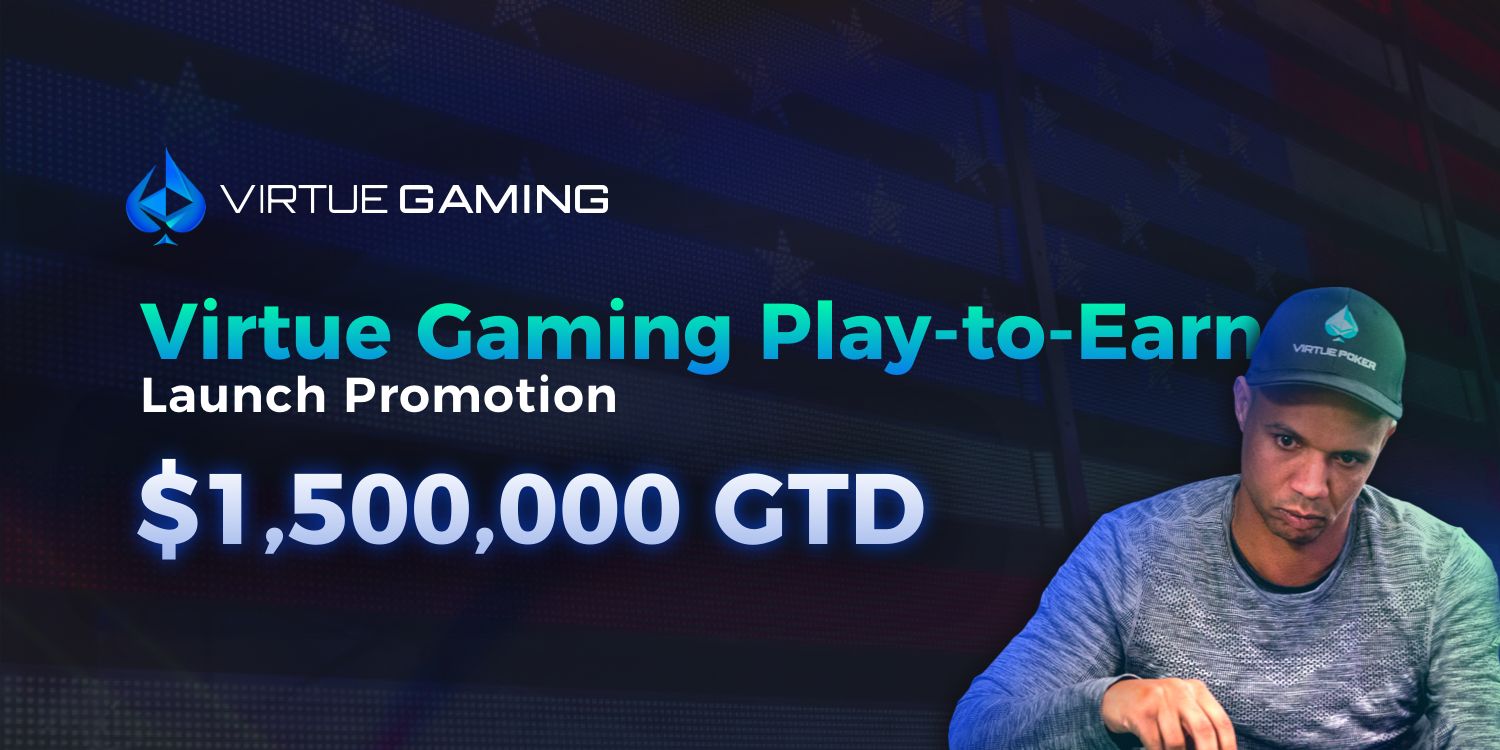 We are pleased to announce the world's first global player pool. The combination of Virtue Gaming and Virtue Poker will allow us to begin scaling our community dramatically and we believe is going to be one of the most significant innovations to online poker in the last decade.
Virtue Gaming uses a play-to-earn model to connect US players to the rest of the world for the first time since Black Friday, creating the world's first global legal poker player network.
Integrating Virtue Gaming into our existing Virtue Poker network allows these new play-to-earn players to immediately compete against our existing global network of 25,000 players on Virtue Poker.
Below, you can learn more about how this works, and our launch promotion:
1 What is Virtue Gaming?
Virtue Gaming is the World's First Free-to-Play Play-to-Earn poker platform where players can not lose. Virtue Gaming employs a first-of-its kind poker model where players receive free bankrolls just by registering an account. Players compete against other players to earn real cash prizes, NFTs and live experiences.
Virtue has submitted a patent on the model: patent application serial number is 17/520,788.
1.1 Who can play on Virtue Gaming?
Currently Virtue Gaming is only offered to US residents but we are working to offer Virtue Gaming in more markets around the globe.
We are already planning on launching in several more Western European markets in January/February 2022.
1.2 How does Virtue Gaming work?
Virtue Gaming is a free-to-play, play-to-earn no loss poker game:
Register: On Virtue Gaming USA, players receive 500 VPP for free upon-sign up (US players only)  
Play: The players compete against other players in tournament and cash games - including players from Virtue Poker.
Complete Play-through: Players must reach a minimum amount of games played to be eligible to win prizes (min: 100 VXP, where 1 VXP equals 1 VPP paid in rake)
Claim Prize: Players who reach the minimum play requirement earn real cash prizes in USDT at the end of the promotional period (equivalent to their VPP balance value). Their balance will be burned, and they can try again in future promotions.
The play-through requirements can be found in the Cashier
1.3 Key Dates
The promotion begins on December 9th 2021 and will run through January 30th 2022.
Players who reach their play-through requirement will begin receiving prizes on February 1st 2022.
However - Virtue Gaming will run several promotions that include Random Daily Drawings, Weekly Tournaments, and other giveaways throughout the course of the promotion (see below). If a Virtue Gaming player wins any of these additional prizes, those prizes typically get paid out within 24-48 hours.
2 Promotions
NOTE: Virtue Poker players are eligible for all promotions below excluding the 500 VPP sign-up promotion:
2.1 Daily Promotions
500 VPP Sign-Up Bonus: Receive 500 VPP tokens just by registering an account! Play to earn your bankroll and redeem it for USDT
Daily Jackpot: Virtue Poker will deploy a 3-max Sit and Go with a hyper tournament structure with a 25 VPP buy-in. If you win the tournament you will be entered into a drawing whereby (2) people each day will win $250 USD. The more times you win, the more entries you get!  
*NOTE: All USD prizes will be paid in ETH based on current Coinmarketcap price of ETH at the time of payment
Random Daily Drawings: Randomly throughout the course of the Promotion, Virtue Poker will announce in our Telegram channel a drawing. Players will receive an entry to the drawings just by entering the tournament!
2.2 Weekly Promotions
Weekly "Play Now" Promotion: Each week, all players who reach a minimum amount of VXP will be entered into a drawing where (10) players will be randomly chosen and win $500 each!
Weekly NFT Giveaways: At the start of the week, Virtue will announce a special NFT prize that players can compete for by competing in our Multi-Step tournaments.
Multi-step tournaments have the following structure:
Satellites that generally cost between 25-50 VPP that players can compete for throughout the week
Winners compete on Sunday and a Semi-Final Sit and Go. The winners advance to the Final Table
The Final Table is played immediately after the Semi-Final Table and plays down to a winner.
2022 Main Event Seat Giveaway
Virtue Gaming will give away a seat to the 2022 Main Event through a tournament this month!
2.3 VXP Prize Store
The VXP Prize store is where you can use your VXP to earn additional prizes. One VXP is earned for every VPP raid in rake on the platform.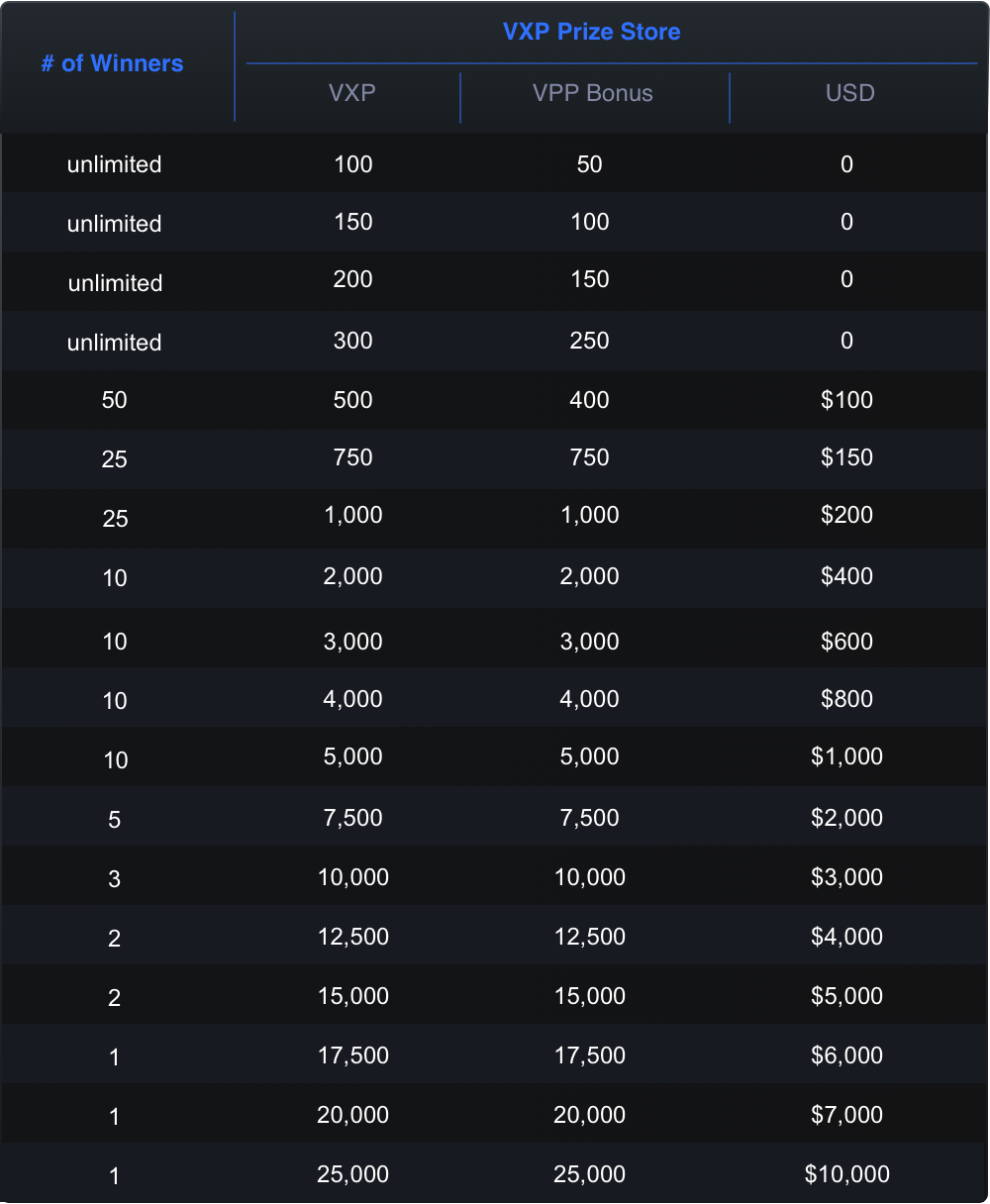 The prizes listed in the table below are in addition to the other promotions and prizes above.
3 Moving Forward
Virtue Gaming will allow us to become a global community of players. This will allow Virtue to dramatically increase our liquidity - and gives us the ability to access a global pool of players.
In addition - moving forward - Virtue plans to add several major brands, people and partners to fuel Virtue Gaming's growth (think sponsored prizes…..) This will also allow us to offer more prizes, and get more eyeballs on our community.
In addition - we are going to begin building an affiliate network and program to incentivize individuals
Stay tuned - and we look forward to seeing more of you on the tables!

The Virtue Poker Team